Aramaic Jesus Lord's Prayer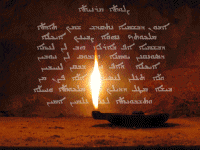 A Healing Journey with the Aramaic Lord's Prayer: Reclaiming the Mysticism of Jesus through His Native Language

by Neil Douglas-Klotz and Elizabeth A. Reed

This 20-lesson online course, guides you on a journey of healing with the Aramaic Lord's Prayer. Return to this ancient prayer and to Jesus' original language and original style of prayer. Become a channel of Divine love, joy, delight, healing, and peace by embracing the prayer of Jesus, as if for the first time. Learn body prayers. See what new meanings await your life! [

Learn more

] [

Enroll Now

] [

Course Reviews

]





Amen: From Which Your Future Actions will Grow
By Elizabeth Reed, Ph.D.


Thanksgiving prayers are said in homes across America in November, followed by various types of holiday prayers throughout December spoken around the world. Consider the power behind the little word that concludes prayers for many, if not most, of us: Amen. In the first century Middle East and in the well-known "Lord's Prayer" of Jesus, the Aramaic word for Amen was "Ameyn".

Ameyn
The Hewbrew/Aramaic "ameyn" is a word of power, affirming that "this is the ground of connection with Unity from which my actions will come." It is directly related to the Aramaic word for "faith" (haimanuta) and goes back at least to the old Egyptian idea of ament - the ground of being to which, symbolically, the bones of our ancestors return.

Rootedness is the Theme
Here are key Aramaic words that share the same root with "ameyn":

Believe (etamen) - a sense of confidence, trust or firmness that comes from a rooted place.

Faith (haimanuta) - indicates a person's confidence, firmness or integrity of being in Sacred Unity.

The root "MN" points to something manifested in an outer form in a way that is rooted, renewing and healing.

"Ameyn" says that the prayer becomes the ground for future action and growth.

A Time to Consider Future Action and Growth
Given that we are now entering a time of thanksgiving for the great harvest in our lives, it is also a time to feel your rootedness in the Sacred. From this rootedness will come next growth and all future harvests. In addition, as we will enter a time of sacred celebrations .... Hanukah, Winter Solstice, Christmas, Zwanza, and others ... it is time to reflect on our confidence and faith in Sacred Unity. How do our holiday plans reflect our connection to the Sacred? From our grounding in the Holy One, what future growth is called for in our lives? What actions are calling to be manifested ?

In all the prayers you speak during the coming seasonal celebrations, after saying "ameyn" take a moment. Stop. Breathe. Experience yourself rooted in Sacred Unity. From this place in Sacred Grounding, become conscious of future growth and actions. Say "ameyn" a second time.





Copyright © 2006 Elizabeth A. Reed & Neil Douglas-Klotz. All rights reserved.