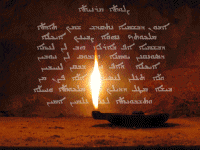 A Healing Journey with the Aramaic Lord's Prayer: Reclaiming the Mysticism of Jesus through His Native Language
by Neil Douglas-Klotz and Elizabeth A. Reed
This 20-lesson online course, guides you on a journey of healing with the Aramaic Lord's Prayer. Return to this ancient prayer and to Jesus' original language and original style of prayer. Become a channel of Divine love, joy, delight, healing, and peace by embracing the prayer of Jesus, as if for the first time. See what new meanings await your life!
An additional message from Neil Douglas-Klotz, Ph.D. ©
My recordings are fine to learn prayers in ancient Aramaic. The pronunciation I use is a recreation of the Aramaic Jesus would have spoken, combining the two current modern intonations used in Aramaic churches with a "touch" of ancient Hebrew.
There are two current modern spoken Aramaic dialects, and neither is very similar to the other, even in vocabulary. A good modern phrasebook that details the differences is
Modern Aramaic
published by Hippocene Books. Very good online learning tools for one of the modern dialects (modern Assyrian) can be found at
LearnAssyrian.com
. This includes also some songs.
Considering modern Arabic, there are also a number of different dialects (Moroccan, Egyptian, Palestinian) and these also have different vocabularies (not simply pronunciations) often even for common things. Although there is a "Modern Standard Arabic" taught in universities, this is a really a pastiche that no one speaks in practice and would identify one as a foreigner.
If simply "seeding" the feeling of a language is the most important thing, then anything actually spoken would help. Even the Yiddish, combining bits of German and pre-modern Hebrew, will help with the "Sprachgefühl," as the Germans say.
Copyright © 2010 by Elizabeth A. Reed. All rights reserved.
Neil Douglas-Klotz and Elizabeth A. Reed
Rev. Elizabeth Reed, Ph.D. is the creator and instructor of these online courses, which approach the teachings of Christ through the language he spoke, the Aramaic Language:
Breathing with the Divine Breath: Deep Inner Healing in The Beatitude Way
A Healing Journey with the Aramaic Lord's Prayer: Reclaiming the Mysticism of Jesus through His Native Language
with Neil Douglas-Klotz, Ph.D.