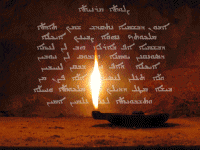 A Healing Journey with the Aramaic Lord's Prayer: Reclaiming the Mysticism of Jesus through His Native Language
by Neil Douglas-Klotz and Elizabeth A. Reed
This 20-lesson online course, guides you on a journey of healing with the Aramaic Lord's Prayer. Return to this ancient prayer and to Jesus' original language and original style of prayer. Become a channel of Divine love, joy, delight, healing, and peace by embracing the prayer of Jesus, as if for the first time. Learn body prayers. See what new meanings await your life! [
Learn more
] [
Enroll Now
] [
Course Reviews
]
A Body Prayer: Polishing the Mirror of the Heart
This body prayer comes from an ancient Sufi practice. Feel the heart as a mirror or clear pool of water. With each gentle breath in and out, feel the mirror becoming clearer.
Keep the focus within the heart.
With this heart focus, begin a gentle movement, a slight movement side to side with the upper body---this movement made by focusing on your heart as a center. Make a crescent shape as you move your upper body. This is an open crescent, open and ready to receive.
Continue to move your body gently, making this crescent from right to left, from left to right. With each movement of the body, with each crescent shape, you are polishing your heart further and further and further. Breathe with the word "qadash" (meaning "holy" or "clearing space for") as you gently move.
As you gently move back and forth, focus upon releasing the clutter of your thoughts. Release the clutter of your life. Make space for the Holy One to be received in your heart center.
Continue the gentle movement. Each movement polishes your heart and it becomes a clearer mirror. This mirror allows the holiness of the Divine to more clearly be reflected in/through/by you.
After a few minutes, feel the focus of breath and sensation in the heart as a sacred space, an altar. Experience this creative spaciousness. As you sit in silence, be aware of any images or sensations that appear there from the One Being.
(This body prayer adapted from
Desert Wisdom
by Neil Douglas-Klotz, p.54. Adapted and used with permission.)
Copyright © 2006 Elizabeth A. Reed & Neil Douglas-Klotz. All rights reserved.