Connecting on a Spiritual Level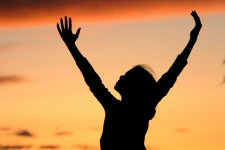 Discovering Your Life Purpose: Living the Life You Were Born to Live
Is your life filled with purpose? Every single one of us has a reason for being here on the planet right now, and every one of us has a unique contribution that no one else can make. It's the reason you were born. Are you living the life you were born to live? This inspiring course takes you on a journey of exploration and evaluation. Course includes interactive web tools and meditations for living with purpose. Ask yourself the right questions and unveil answers that may surprise you. [
Learn More Now
]
Living with Purpose: We Are All Connected
By Melanie Votaw
With so much pain and tumult around the globe, it's at times difficult to feel safe
and
to feel our connection to all things. It feels safer to isolate and separate ourselves energetically from the negative forces that we read about on a daily basis. But if you remain isolated in fear, it's virtually impossible to connect with
your life purpose
. Living your life's purpose not only brings you joy but enables you to be of service to others.
While I'm certainly not advocating that you invite in anything that is negative, I do think there are some exercises you can do to help you feel safer and help you feel the connection that we all share. This connection is on a spiritual level or soul level - not on a personality level. And it's our human personalities and fears that cause us to hurt one another.
When we connect to one another on a soul level, we elevate ourselves to a place beyond the fears that keep us feeling separate. Then, we can feel safer in a world that appears to be tremendously unsafe. Here's an exercise you can try to experience this feeling of oneness.
Connecting on a Spiritual Level ~ Guided Meditation
Imagine that a piece of God's love resides in your heart - because, in truth, it does! Imagine this piece of love as a ball of pure iridescent white light. If you have trouble visualizing the ball of light, simply allow yourself to feel its presence.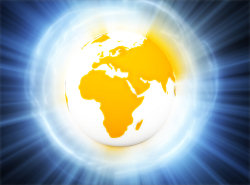 Allow the light to grow bigger and bigger until it extends from your body. It continues to grow larger until it emerges from your home and onto the street. As your light expands, feel yourself encompassing everything in the world -
connecting on a spiritual level to all that is
.
Feel your connection to everything.
Feel the love that's present in nature and in animals.
Feel the love that's present in the hearts of all people even if their actions belie that love.
Feel how you are a part of God and all that is, and how everything is a part of you.
Allow your light to become so large that it takes in the entire universe. Feel that you are exactly where you're supposed to be and exactly who you're supposed to be. Feel the unique part you play and fill in the world. Feel what more you can do to fulfill your life's purpose.
Where and in what way would you be of most help in the world?
Copyright © 2006 Melanie Votaw. All rights reserved. If you are interested in publishing this article, please email
.