Discovering the Goddess: A Path to Healing, Spirituality and Joy
by Rev. Laurie Sue Brockway

[ Course Reviews ]



(Audio Message from Course Instructor)
(Real

player required)
You are invited to the world of the Goddess.
She
is known by many names and faces, from many traditions and cultures but she does not ask you to give up the faith you were born into or the spiritual beliefs you cherish. Rather,
She
comes into your life in addition to any other form of spirituality you hold dear. She comes to enhance who you already are and open a new way for you to see and know yourself; to heal and enrich your spiritual journey.
In the upcoming 13 lessons, you will discover the Goddess and how her wisdom and power can help heal, inspire and uplift you, your relationships and the world. You will also be guided to connect to the divinity within and to claim your sacred feminine power.

Who is best served by this e-course?
If you have been earnestly searching for the Her in your spiritual pursuits, it is probably no accident you have been guided to this page. Or, perhaps you are familiar with Her but want to deepen this connection. In either case, this course is likely to empower and intensify your spiritual journey.

| | |
| --- | --- |
| | Holistic Expressions |

---

Holistic Expressions

~ free ezine sign-up

Ezine includes holistic articles, meditations and special offers.

(Privacy policy – we do not share this information with others).
Just take a look at some of the
testimonials
sent in about this course...
(move mouse over text to pause)
Course Objectives
On this inspiring and healing journey, you will...
Explore the history of the Goddess.
Learn about the cultures and traditions that honor Her today.
Meet Her in many forms, and by many names.
Practice healing rituals and exercises that can support you in all areas of life.
Receive sacred blessings, insights and knowledge.
Enter the sacred circle of her love and protection to meditate, and plan your life's dreams.
And when you are ready, you will be invited to step into the Temple of the Goddess to connect deeply with her through your heart and soul.
13 Lessons
[mouse over to see course syllabus]
Recommended Course Pace:
weekly receipt of lessons
Special Course Features and Add ons
With this course, you will also receive access to:
Access information will be provided in the email lessons as you proceed through the course.
Begin your journey now! Have each lesson of this course delivered to your email inbox on the start date and at the frequency of your choosing by clicking the
Enroll Now
button.



Money Back Guarantee
Course Fee:
$34.95
Take advantage of our 2 for 1 Offer!
Take this course with a buddy. If you enroll now, you have the option to take this course with a friend for no additional course fee! The free course will be a gift from you to your friend.
Why e-learning?
Reportedly, e-learning results in a higher rate of information retention - with students demonstrating a 60% faster learning curve than those in instructor led classes. And, in contrast to a Web seminar, teleconference, or traditional class, our lesson delivery suits your lifestyle and schedule!
About the Instructor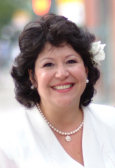 Rev. Laurie Sue Brockway is an interfaith minister and non-denominational wedding officiant who helps people get ready for love and marriage, and who blesses the unions of couples in love in unique and loving ceremonies. She is also widely known as a specialist in women's spirituality, empowerment and feminine wisdom. She is author of
Wedding Goddess: A Divine Guide to Transforming Wedding Stress Into Wedding Bliss
(Perigee Books, Spring 2005),
A Goddess Is a Girl's Best Friend: A Divine Guide To Finding Love, Success and Happiness
(Perigee Books, December 2002), and the
www.SelfHealingExpressions.com
courses
Discover the Goddess
and
Find Your Spiritual Soul Mate
. She is editor of
www.Wedlok.com
. Visit Rev. Laurie Sue at
www.weddinggoddess.com
.