Reclaim the Mysticism of Jesus for Healing & Deep Peace
A Healing Journey with the Aramaic Lord's Prayer: Reclaiming the Mysticism of Jesus through His Native Language


by Elizabeth A. Reed co-created with
Neil Douglas-Klotz

[ Course Reviews ]



(Audio Message from Course Instructor)



Course Description
You are invited on a journey of healing with the Aramaic Lord's Prayer. Become a channel of Divine love, joy, delight, healing, and peace by embracing the prayer of Jesus, as if for the first time.
Growing up, many of you learned and recited the Lord's Prayer in church or at bedtime, saying something like this.
Our Father who art in Heaven,
Hallowed be Thy Name.
Thy Kingdom come, Thy Will be done,
On earth as it is in Heaven.
Give us this day our daily bread,
And forgive us our trespasses (debts) as we forgive those who trespass against us (our debtors).
And lead us not into temptation, but deliver us from evil.
For thine is the Kingdom and the Power and the Glory forever. Amen.
This is only one translation of Jesus' words, a translation based on Greek manuscripts which were translated over the centuries from one language into another -- into Latin, German, and then into various forms of the English language. However, Jesus did not teach in Greek, Latin, German, or English. He spoke and taught in Aramaic. In the Temple, he would have spoken Hebrew - a sister language to Aramaic, which was the more formal language for the Temple.
You now have the opportunity to return to Jesus' original language and original style of prayer. See what new meanings await your life.

The course has helped my awareness open up, by reviewing the 'old' Lord's Prayer of my youth in a 'new' light and with a 'new' life. It is a fresh breath of air for me.
~ Gilbert B. Smith

Who is best served by this e-course?
You will be well served by this course if you are...
Interested in Christian mysticism.
Open to different meanings, understandings, spiritual practices, and life energy inspired by this prayer in its original form.
Interested in learning a wide array of body prayers. Body prayers are an ancient form of spiritual practice utilized by many spiritual traditions.
Just take a look at some of the
testimonials
sent in about this course...
(move mouse over text to pause)
Course Objectives
This course delves deeply into the Aramaic Lord's Prayer from a native Middle Eastern point of view. Each lesson focuses on a single line of the prayer breaking down the words, syllables and meanings.
Learn and hear the rich sound and word meanings from Jesus' native language, Aramaic.
Understand and experience your connection with the One Being, with Sacred Unity that is at the heart of all world religions and spiritual expressions.
Experience body prayers that connect you with spiritual practices of Middle Eastern mystics and prophets of long ago. (All of these are contemporary expressions of the ancient practice of body prayers.)
Ancient world-views did not see the body, mind, or emotions as separate aspects of being. Everything was one being; there were no distinct "parts." But we now find ourselves turning to
wholistic
practitioners in an attempt to reconnect these parts. Open your heart and mind to hear and receive the gift of this ancient prayer anew and be guided towards wholeness.
20 Lessons
[mouse over to see course syllabus]
Recommended Course Delivery Pace:
weekly receipt of lessons
20 Audio Guided Meditations
By Rev. Elizabeth Reed

Rev. Reed helps this ancient prayer come to life with 20 downloadable guided meditations. Listen to these audios again and again at your convenience, well beyond your completion of these lessons.
Access provided in lessons.
Web Tool – Printable Reference Guide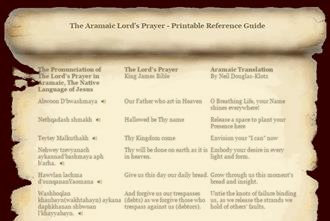 Printable reference guide of the Aramaic Lord's Prayer featuring the Aramaic pronunciation and different versions of the Lord's Prayer side by side.
Access in various lessons.
Select Videos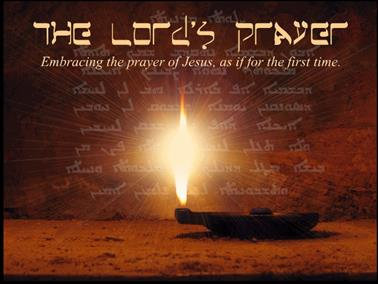 Select videos to deepen your learning. Listen to video clips of teacher and author Neil Douglas-Klotz. His work has helped many deepen or revive their faith by discovering the nuance of the Aramaic language which Jesus spoke.
Access in various lessons.
Body Prayers
Learn body prayers that connect you with spiritual practices of Middle Eastern mystics and prophets of long ago. As a reference point, recall times when you've seen orthodox Jews pray with a rocking motion, Muslims either rocking or swaying or prostrating themselves while reciting prayers, or Native or indigenous peoples dancing in scripted dances or open ecstatic movements. All of these are contemporary expressions of the ancient practice of body prayers. Experience the joy!
Access audios by Rev. Reed in various lessons..
Begin your journey now! Have each lesson of this course delivered to your email inbox on the start date and at the frequency of your choosing by clicking the
Enroll Now
button.
Money Back Guarantee
Course Fee:$47
Neil Douglas-Klotz, Ph.D. is an international author in religious studies and somatic psychology. He is a senior teacher in a Western branch of Sufism and founder of the International Network of the Dances of Universal Peace. For ten years, he taught on the faculty of Matthew Fox's Institute for Culture and Creation Centered Spirituality. Currently residing in Edinburgh, Scotland, he co-directs the Edinburgh Institute for Advanced Learning. He has authored
Prayers of the Cosmos: Meditations on the Aramaic Words of Jesus
,
Desert Wisdom
,
The Hidden Gospel
,
The Genesis Meditations: A Shared Practice of Peace for Christians, Jews, and Muslims
, and
The Sufi Book of Life: Meditations for the Modern Dervish
. His web site is
www.abwoon.com
.
The Rev. Elizabeth A. Reed, Ph.D. is a psychotherapist and spiritual counselor in private practice and directs the non-profit Shalem Center in Ohio, dedicated to wholistic healing and growth of individuals and organizations. Over the past seven years, Shalem Center has developed a partnership with Douglas-Klotz' Abwoon Study Circle, supporting its work in North America. Elizabeth is an ordained minister in a mainstream denomination as well as within a Western Sufi path. She has published a number of articles in religious journals, many focusing inclusive language concerns and psychological issues for women in the church. A lifelong spiritual seeker, she has found great meaning through studies with Dr. Douglas-Klotz and wrote this course at his suggestion and with his collaboration. She is the creator and instructor of these Self-Healing Expressions eCourses:
Breathing with the Divine Breath: Deep Inner Healing in The Beatitude Way
co-created with Neil Douglas-Klotz, and
A Healing Journey with the Aramaic Lord's Prayer: Reclaiming the Mysticism of Jesus through His Native Language
co-created with Neil Douglas-Klotz.