Is your Spirit Body in Need of Repair?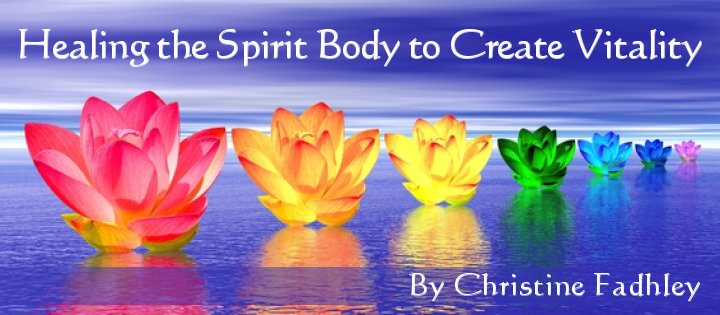 Healing the Spirit Body to Create Vitality
By Christine Fadhley, holistic healer
In today's world, dark negative energies can presents themselves in many forms and locations. These harsh energies can attach themselves to your spirit body in the process. Such energy might be floating around or residing in your living space, workplace, public transportation, shopping malls and even on other people in your circle! Consider that colleague or family member who spews negativity over everyone and everything. This negativity may even float over the airwaves of your cable news program into your living room!
Are you taking Steps to Protect your Spirit Body from Negative Energy?
When the Spirit Body (which includes the aura and chakras) is clogged, torn, unbalanced or blocked, the physical body is vulnerable to illness or disease. Left untreated, this can hinder healing and wellbeing. Over time, it may make you emotionally, mentally and or physically ill.
We all possess a spirit but most of us don't factor this into our quest for health and healing. We therefore may not realize the health and healing we desire and deserve. In the holistic healers' view, problems with the spirit body could contribute to:
| | |
| --- | --- |
| | Aches and pains |
| | Feeling spaced out |
| | Feeling overwhelmed, nervous, light headed |
| | Feeling oppressed, depressed and anxious |
| | Other health issues |
So, is Your Spiritual Health Regime in Need of Support?
The lessons in this self-healing course serve as an empowering guide to:
Repair your Spirit Body
Promote Aura Health
Protect your Spirit Body
Neutralize or Clear Negative Energy from your Spirit Body
Create or reinforce a foundation for spiritual growth and healing.
In Western society, many have forgotten (at great cost) that there is a link between the mind, body and spirit. This course by holistic healer Christine Fadhley guides you back to that connection and provides various tools for healing the spirit body.
Topics this course guides you to manage or examine include:
Aura health (sealing holes and tears)
Device removal
Clearing harsh energies from your aura
Angelic healing tools
How to cope if you are an Empath or a Sensitive
Remove generational problems and curses from your family
Coping with stress
Using medical magnets for chemical free pain relief
Chakra health (cleansing and repairing)
Understanding dreams, nightmares and obsessions
Cleansing your home of negative energy fields
Understanding soul recognition and love at first sight
Ascension information
Improving sleep
Dissolving the Pain Body
The Monad, the Merkabah and other aspects of spiritual development
And much more!
The lessons in this self-paced course empower you to understand and learn how to manage and heal your own aura health and thus gain the key to increased vitality.
Special Course Features

Susannah, who lived in London, came to me for help with depression and sensitivity to foods and other substances. When I initially swept my hands over her aura to sense the quality of her energy and to check if there were any blockages, I noticed that her aura was clogged with a great deal of dark and harsh feeling energy. She also had a blob of harsh energy over the crown of her head (i.e., her crown chakra). I knew how bad that must be making her feel and how badly it must be undermining her in every way.
Over the course of several visits, using the same techniques taught in my online course, we were able to cleanse her aura and clear the emotional energy blocks affecting her chakras. These efforts strengthened her energy system, lifted her depression and she reported her sensitivities were reduced. She was pregnant, to her delight, during her last visit for treatment.
There is an interesting post script to this story. In the local park one day with my grandchildren, I came face to face with a child standing on a piece of playground equipment. I instantly realized that I knew this boy but at the same time, I realized I'd never met him before. Then his mother came round the corner and guess who it was? Yes, it was Susannah. Although I'd never met him face to face, I'd met his spirit when he was growing inside his mother's body.

~ Christine Fadhley, holistic healer and course instructor
Just Imagine...
The return of your energized and vital self after you've cleansed, repaired or healed your own aura and chakras with the steps shared in this course. These days just about everyone comes into contact with various forms of negative energy. Imagine the relief of removing that negative energy which may have accumulated over time. Negative energy which has been weighting you down or holding you back from the positive and uplifting life you desire and deserve. Furthermore, you will have and can use these tools for spiritual healing for the rest of your life!
This course is result of two decades of dedicated work with many clients in Christine's yoga and holistic healing practice in the United Kingdom. And it is now being offered to you online at a fraction of the cost of in-person consultations.
Look What else Comes with this Course!
Bonus Audio! Why Open and Close the Chakras

Holistic healer and yoga instructor, Christine Fadhley, discusses the chakra energy centers and the significances of opening and closing them during and after meditation in this compelling audio.

| | |
| --- | --- |
| | Access in Lesson 4 |

Rewriting the Script! Clearing Negative Core Beliefs

We all send ourselves negative messages from time to time. And these messages can serve as road blocks in our quest for happiness and abundance (just to name two common desires). This PDF workbook guides you to uncover where and when negative messages started, powerful exercises to clear negativity and techniques for rewriting that internal script.

13 pages
Access in Lesson 5

Working with the Archangels Michael, Raphael, Gabriel, and Uriel

The Archangels look after the affairs of earth and support, assist, and inspire us on our life path and in our life purpose. In this report by Bonnie Schwartzbauer, author and instructor of Decoding Your Human Design: Revealing Your Soul's Song, you will be guided to build (or deepen) your relationship with the Archangels thereby creating a deeper meaning to your life work and purpose.

Connect with the angelic realm.
Discover the angelic hierarchy.
Meet Archangel Michael, Gabriel, Raphael, and Uriel.

Develop a deep connection with the Archangels through music and meditation.
Work with the Archangels to gain insight on your life and life purpose.

18 pages
Access in Lesson 6

Bonus Audio: Intention Visualization Meditation

Visualization can be a powerful tool for manifesting one's intentions. This inspiring audio is from the Self Healing Expressions course, The Power of Visualization: Tools for Manifestation and Healing is by Amie Escher, Msc.D., spiritual healer, teacher, author.

Downloadable audio
Access in Lesson 7

Finding the Chi

A Guided Meditation by Maggie Wahls, RMT

In this soothing guided meditation by Shaman Elder Maggie Wahls, experience your connection to Source/Oneness. This is a wonderful preparation meditation for any of the exercises throughout the course and beyond. Listen to it again and again.

Downloadable audio (18:13 min.)
Access in Lesson 8

Space Clearing Aromatherapy Blend Liquid Smudge

Proprietary blend by Deborah Redfern

Traditional Native American Smudge Sticks are used to remove stagnant energy fields around people, to clear undesirable vibrations out of homes, and to promote health. But they use fire and create smoke, which is not appropriate for all indoor spaces. Essential oils can be used instead of dried herbs, invoking the spirit of water and air for clearing purposes. Combine this blend of oils with filtered or distilled water and spray mist around a person and/or a room. This Space Clearing recipe transcends several ancient traditions.

Access in Lesson 9

Bonus eBook! The Shaman Speaks: Spiritual Protection

Do you find that certain people and places can make you feel drained of energy and/or feel unwell? Perhaps leaving you with a headache or other aches and pains afterwards? To better understand what "Psychic Protection" is, one needs first of all to understand why you need it.

30 pages
Access in Lesson 10

Healing Transgenerational Beliefs Using Crystals

by Margaret Loris, RN, MS

What drama keeps playing – generation after generation – in your family? In this PDF, explore healing crystals as a tool to help you:

Heal Transgenerational Beliefs
Remove Family Curses

Remove Bad Luck
Resolve Family Secrets


Learn which stones to use and how



13 pages
Access in Lesson 14

Are you suffering sleepless nights due to Restless Leg Syndrome? Or perhaps you are struggling with some other symptoms such as:

IBS
Weight Gain
Chronic Fatigue

Allergies
Skin conditions


Have you considered that such health issues could be the symptom of an underlying cause? In this bonus ebook, you are invited explore the underlying cause of certain health issues from a holistic healer's perspective. Instead of just managing symptoms, it is quite possible you could take steps to address the underlying cause then be on your way to resolving the problem.

19 pages
Access in Lesson 15

Life in Other Dimensions: Astral Spirits and the Astral Realm

by Christine Fadhley, Holistic Healer

We live in a multidimensional Universe. We connect to other dimensions through the chakras and the aura layers that surround the physical body. Learning how we relate to this "bigger picture" is essential for health, happiness and longevity. This ebook guides you to understand the Astral Realm, its inhabitants and how we fit into this greater reality.

24 pages
Access in Lesson 18
18 Lessons
[mouse over to see course syllabus]
Recommended Lesson Delivery Course Pace: Weekly
You select the pace for lessons delivery!
This course with the extras is valued at $307 but you are being offered it today at a fraction of that price!
Have each lesson of this self-healing course delivered to your email inbox on the start date and at the frequency of your choosing by clicking the Enroll Now button.
Christine Fadhley is a holistic healer and Reiki Master in the United Kingdom. She worked at Alt Medic Holistic Therapies and the Marjorie Centre for Complementary Health. Finally working from her own private clinic rooms, Christine has successfully helped many people suffering from a wide range of health issues. She has also worked as a yoga instructor and workshops leader, presenting on holistic healing topics. She trained in acupuncture at the London School of Five Element Acupuncture in the 1990s and has completed study of Kinesiology, as well as, Spiritual Healing under various teachers. She is also the author of these popular Self Healing Expressions ebooks and course:
Healing the Spirit Body to Create Vitality
7 Steps to Beating Restless Leg Syndrome Naturally
Curing Irritable Bowel Syndrome: Using Natural Holistic Therapies
Food Intolerances: Understanding and Overcoming them Naturally
She has been married to Sam since 1973 and they have two grown children and four grandchildren all of whom ensure that she never gets bored.
ClickBank is the retailer of products on this site. CLICKBANK® is a registered trademark of Click Sales, Inc., a Delaware corporation located at 917 S. Lusk Street, Suite 200, Boise Idaho, 83706, USA and used by permission. ClickBank's role as retailer does not constitute an endorsement, approval or review of these products or any claim, statement or opinion used in promotion of these products.