Grief is an emotional wound that can be healed...
The First Year of Grief: Help for the Journey

Online Grief Course
by Marty Tousley, CNS-BC, FT, Grief Counselor





(Audio Message from Course Instructor)
Grief Course Overview
If you are mourning the loss of a loved one, please accept our heartfelt condolences during this sad and difficult time. And accept this invitation to enroll in this grief course designed to help you move through grief actively over the coming weeks, months and yes, perhaps even years.
You may wonder if this awful pain you feel will ever end...
Coping with loss can be a momentous challenge. Loss creates an emotional wound, but it is an injury that can be healed. With help and understanding, the pain of loss can be transformed into a challenging new beginning, and your grief experience can become a healthy, positive and healing process.
You can choose to make the process of mourning a healing one...
Expressed grief can be worked with and released, but suppressed grief torments you in ways you cannot control. With the support of this course and its suggested grief resources, you can choose to make the process of mourning a healing one, which means moving through grief thoughtfully and deliberately.
On this healing journey...
You will be gently guided in your journey of coping with loss by:

It's called grief work because finding your way through grief is hard work. If you put it off like a messy chore, it just sits there waiting for you.
~ Marty Tousley

| | |
| --- | --- |
| 1) | Accessing all available resources for grief recovery |
| 2) | Finding meaning in your loss |
| 3) | Continuing to live productively in the years to come. |
Every loss is a challenge to grow. Growth requires change, and change is often painful. When a loved one dies, everything changes, including you. Nothing is ever the same again.
Enroll Now!
Special Course Features



Movies dramatizing others coming to terms with their pain may serve as a valuable tool to help you and your family members move through the grieving process. In this spirit, access this list of movies categorized by the aspect of grief primarily addressed in a given DVD. (Lesson 7)



Grief Songs: Music for a Grieving Heart

by Marty Tousley, CNS-BC, FT, DCC
Bereavement Counselor

When we are struggling with grief, music can lift us up, take us out of our current mood, and transport us to another time and place. In this spirit, this list of Grief Songs has been compiled for the bereaved.

(Access to full music list, music videos, and discussion venue – Lesson 16)




Online candle lighting ceremony and suggestions for ways to memorialize your loved one - during the first year, at year's end and/or around holidays.

Additionally, list of ways to nurture and comfort your mind, body and spirit as you go through the mourning process. (Lesson 1)




Grief support group recommendations.
(Lesson 2)




Access to Q & A's by bereavement counselor Marty Tousley. Access to commonly asked Q & As on grief.




Printable checklist for reflection and evaluation of your progress and growth. (Lesson 23)
Just take a look at some of the
testimonials
sent in about this online grief course...
(move mouse over text to pause)
Who is best served by this grief healing course?
Those struggling with grief and loss and...
Experiencing grief and despair caused by the loss of a loved one but wanting to know there is light at the end of the tunnel.
Caught off guard by grief, feeling totally unprepared for it and needing guidance in dealing with it.
Dreading and/or not knowing what to expect next, wondering whether reactions are normal, and needing reassurance that everything is as it should be.
Seeking guidance, support and comfort for this most difficult journey.
Seeking to understand the nature of grief and its potential impact on all aspects of one's life including: the physical, emotional, financial, social, and spiritual.


And those...


Wanting to better understand and help a friend or family member who is grieving.
When armed with an understanding of grief and knowing what feelings and experiences to expect, one is better able to cope with grief and face what lies ahead.
A Word about Marty, the Course Instructor....
This well-regarded course is authored by beloved grief counselor Marty Tousley, RN, MS, FT, DCC. This course is a result of over 30 years of intensive training and experience counselling and supporting the bereaved in private and group settings.

When Marty neared retirement some years back, she spent months adapting her real world experience into this unique online course of support. She has subsequently added content and resources to course lessons over years.

This course with its many bonuses is a fraction of the cost of private counselling sessions and can be done in the privacy and comfort of your home — not to mention at the time and pace of your choosing.

Marty, I wrote you last week about taking the online course. My Dad died 8 months ago. Thank you for responding to my letter. I have read your reply many times. I have so much gratitude for your insight and thoughtfulness in responding. I almost feel like I have won some sort of contest and finding you on the internet is the prize. I am sure that sounds very strange to you but I don't even know how else to say it. Well, here's the thing, I ended up joining the online course. I have found that it really can apply not only to the first year but at any time. Thanks for pointing that out! It is so awesome. I really, really enjoy reading the information. And even more than that, I feel that it has already helped me sort out some of the stuff in my head...

Light a candle for your loved one.


This well-regarded grief healing course makes a unique and thoughtful condolence gift. We know this because so many people are repeat customers of this particular Self Healing Expressions course. Depending on the lesson delivery pace selected, it is a gift that keeps giving — since it can be scheduled to last for six months or for a full year. If you wish to purchase this course as a gift, follow these simple steps.
Grief Course Objectives
This grief healing course benefits the bereaved by providing useful information, grief resources, and practical suggestions to help you better understand and cope with grief. You're far more likely to manage and get through what lies ahead by comprehending what is likely to be encountered along the way. Grief course content provides hope that you can rebuild your life without your loved one in it and a wide array of tools to help you do so.
Discover information on practical matters such as making difficult lifestyle adjustments (in finances, retirement, housing, etc.). Lesson 5
Find support and guidance in dealing with different grieving patterns in a family, and ways to minimize stress. For example,learn how to nurture and comfort your mind, body and spirit through the grief process. Lesson 21
Be guided through the emotional upheaval of grief, and gain a better understanding of the shock, disbelief, confusion, fear, anger, guilt, sorrow, loneliness, mystical experiences and spiritual reactions that are commonly experienced in loss.
Learn to access all available resources for recovery. Identify and establish a support system. Lesson 18
Consider ceremonies and suggestions of ways to memorialize a loved one – during the first year, at year's end and/or on holidays and special days. Lesson 22
Explore how to cope with the upsets, setbacks and aftershocks that accompany normal grief. Lesson 22
Evaluate progress from surviving toward transcending grief. Lesson 24
Finally, find meaning in your loss, and continue to live productively in the years to come.
24 Lessons
[move mouse over to see course syllabus]
Look What else Comes with this Course!
Connect with others walking this path of grief 24/7, in the privacy and comfort of your home, in this online venue moderated by certified grief counselor Marty Tousley, CNS-BC, FT, DCC.

(Accessible from all lessons)
Help for Writing Sympathy Thank-You Notes
by Marty Tousley, CNS-BC, FT, DCC
Bereavement Counselor
Upon the death of a loved one, it is customary to send written thank you notes for expressions of sympathy... It is perfectly acceptable to express your gratitude for gifts of flowers, donations and other acts of kindness with bereavement thank you notes later, when other affairs are in order and when you may feel more up to the task. This 20 page ebook is designed to help you write words of thank you for sympathy (or funeral thank you notes) at that point and includes sample thank-you phrases, sample positive statements, and gratitude quotations to make this task more manageable.

Downloadable eBook – 20 pages

(Accessible in Lesson 1)
How to Write A Eulogy: Guidelines & Examples for Paying Tribute to Your Loved One
by Marty Tousley, CNS-BC, FT, DCC
Bereavement Counselor
This eulogy speeches ebook is designed to help you organize your thoughts, write, and deliver a heartfelt eulogy. Unlike a lot of other online grief-healing material, this ebook is authored by Marty Tousley – a certified bereavement counselor. Marty brings unmatched compassion, wisdom, sensitivity and warmth to her grief healing materials. Format: PDF, 46 page
(Accessible in Lesson 1)
Life Lines: How to Write an Obituary
by Marty Tousley, CNS-BC, FT, DCC
Bereavement Counselor
An obituary serves to notify others of the death of a loved one. This 24 page PDF ebook provides guidance on
how to create an obituary
. Topics include:
Obituary Basics
What Information Should Be Included?
Helpful Hints for Writing an Obituary
Example of a Death Notice
Example of an Obituary
Access to Obituary Templates
Outline for Writing a Death Notice
Outline for Writing an Obituary
(Accessible in Lesson 1)
Explaining the Funeral / Memorial Service to Your Children
by Marty Tousley
If this is your family's first experience with death, you may be wondering how and even whether to include your children in the rituals of grief for the person who has died. This downloadable 19 page PDF e-book tries to answer many questions about how best to meet your children's needs at this sad and difficult time.
(Accessible in Lesson 1)
Grief: Coping with Holidays and Other Celebration Days
by Marty Tousley
When you're in the midst of pain, and the rest of the world wants to gather and celebrate, you need to find ways to manage your pain and get through the day or the season with a minimum of stress. This 17 page PDF guide was created for this purpose.
Recommended Lesson Delivery Pace:
bi-weekly (i.e., every other week) receipt of lessons to your inbox
Note from Grief Counselor, Marty Tousley:
While it is tempting to set the eCourse pace for daily or weekly delivery of lessons during the early stages of grief, the course will provide greater value with a bi-weekly delivery pace (i.e., every other week delivery).
Occasionally I am asked whether the content in my course is relevant
only
for those who are in the first year of their grief journey.
In spite of the course title, the content is indeed applicable during the first year
and
beyond.
Begin your healing journey now! Have each lesson of this online grief course delivered to your email inbox on the start date and at the frequency of your choosing by clicking the
Enroll Now
button.
| | |
| --- | --- |
| Course with extras valued at: | $337 |
| | Enroll Now! |
| Your price: | $57! |
About the Instructor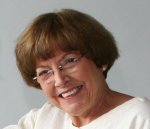 Marty Tousley, RN, MS,
FT
,
DCC
is a nationally certified grief counselor helping people find their way through grief following the death of a family member. She worked at Hospice of the Valley in Phoenix, Arizona as a bereavement counselor for nearly 20 years. A frequent contributor to healthcare journals, newsletters and magazines for the lay public, she has authored a number of books, booklets and articles addressing various aspects of loss and grief. With her special interest in grief and the human-animal bond, she also facilitated a pet loss support group for bereaved animal lovers in Phoenix for 15 years, and now serves as consultant to the Pet Loss Support Group at Hospice of the Valley and to the Halton-Peel Pet Loss Support Group in Ontario, Canada. Through her award-winning website, blog and online grief discussion forums, she maintains an active online presence, bringing information, comfort and support to those anticipating or mourning the loss of a loved one.
She is the author of a variety of grief ebooks and three Self Healing Expressions grief courses, including:
The First Year of Grief: Help for the Journey
A Different Grief: Coping with Pet Loss
A Different Grief: Helping You and Your Children with Pet Loss