Feeling stuck in a rut personally or professionally?
Feng Shui Soulutions: Your 30 Day Home and Life Makeover


by Deborah Redfern

[ Course Reviews ]




(Audio Message from Course Instructor)




Feng Shui eCourse Description
Are you experiencing any of the following challenges in your life...
| | | |
| --- | --- | --- |
| | | Inability to meet goals and realize desires? |
| | | Low energy levels, even depression? |
| | | Drained or scattered energy? |
| | | Feeling stuck in a rut personally and/or professionally? |
| | | Family members with asthma or allergies? |
If so, you could enjoy vast benefits from this 30 day home and life makeover using Feng Shui. Embrace feng shui home décor with this feng shui online course.
Feng shui is the ancient art of living in balance. When your home is in balanced, your life is propelled in many positive and healthy directions!
Each lesson in this
Feng Shui home makeover
provides proactive steps you may take to balance, open, release, or shift energy in your home. Once energy is shifted and vibrational levels lifted on the home front, you could well notice a series of positive, unexpected and almost magical events occurring in your life! This could include attracting new opportunities, improved relationships, increased abundance and greater success.

The de-cluttering was magical for making changes in my life because everything has energy. I thought de-cluttering looked good and felt good, but it also helped me get out of a rut when I had difficulty moving forward. It also helped me heal relationships of all kinds. Deborah's course is very enlightening and easy to understand.
~ Yvette F.

Benefits of Your 30 Day Feng Shui Home & Life Makeover!
Lessons in this feng shui online course guide you to:
Focus scattered energy
Clear way for movement towards desired goals.
Find symbols that empower you to move forward or break past obstacles.
Create a Home Spirit Center
Space Clearing your Home
Identify and release energy-draining clutter.
Feng Shui your front door. The front door marks the transition between the outer public world and your inner private world.
Feng Shui your kitchen. The state of your kitchen impacts your entire home.
Feng Shui Your Storage Areas. The basement and attic can be symbols or metaphors for what is happening in your life.
Embrace the elements including Fire, Water, Earth, Metal ~ and learn to place symbols for each.
Embrace Feng Shui Color ~ The quickest and easier way to change the energy of your home.
Feng Shui your bedroom. The bedroom is related to your inner self.
Green Feng Shui ~ which concerns the health and safety of your living and working environments.
And much, much more. This eCourse is packed with useful information!
Get ready to create movement and expansion in your life using Feng Shui tools, techniques and symbols!
This Course Includes...

Deborah has taken 'dusty' ideas from traditional feng shui and seamlessly made them sparkle, and appropriate for contemporary life. She has a unique way of presenting this material so that change seems simple, ideas seem fresh, and on top of that, everything seems so do-able.
~ Stratton Semmes

Just take a look at some of the
testimonials
sent in about this course...
(move mouse over text to pause)
30 Lessons
[mouse over to see course syllabus]
Recommended Course Delivery Pace:
Daily
Begin your journey now! Have each lesson of this feng shui colors and healing course delivered to your email inbox on the start date and at the frequency of your choosing by clicking the
Enroll Now
button.
Look What else Comes with this Course!
Space Clearing Aromatherapy Blend Liquid Smudge
Proprietary blend by Deborah Redfern
Traditional Native American Smudge Sticks are used to remove stagnant energy fields around people, to clear undesirable vibrations out of homes, and to promote health. But they use fire and create smoke, which is not appropriate for all indoor spaces. Essential oils can be used instead of dried herbs, invoking the spirit of water and air for clearing purposes. Combine this blend of oils with filtered or distilled water and spray mist around a person and/or a room. This Space Clearing recipe transcends several ancient traditions.
(PDF)
Guided Meditation:
The Bagua Journey of Life



By Deborah Redfern
Be guided through the areas of the Bagua and embrace the wisdom each area has to teach you. Deborah's gentle and reassuring voice guides you on this 11½ minute journey.

Plants in Feng Shui: What, How and Where (PDF)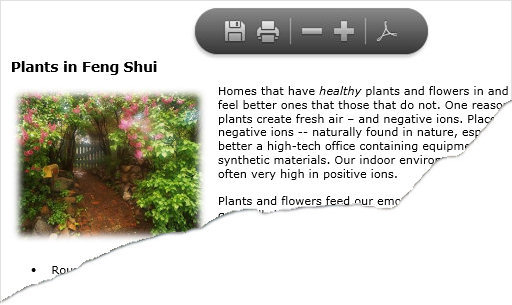 Discover 19 plants/trees with particular Feng Shui symbolism in this one page PDF. Also discover how the shapes of leaves, presence of thorns and use of artificial plants can enhance or hurt your home's Feng Shui. Finally, learn where to use plants in your home for optimal balance and harmony! (PDF)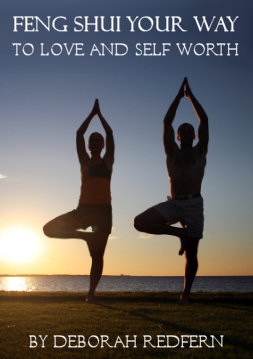 Feng Shui Your Way to Love and Self Worth
By Deborah Redfern




This Feng Shui workbook is designed to support you on your journey towards a healthy and loving relationship with yourself and others! Exercises guide you to explore what is working well in your relationships and what you want to create. Discover changes you could make — not only the physical changes in your home according to the bagua but changes in your life, including habits and beliefs. (PDF)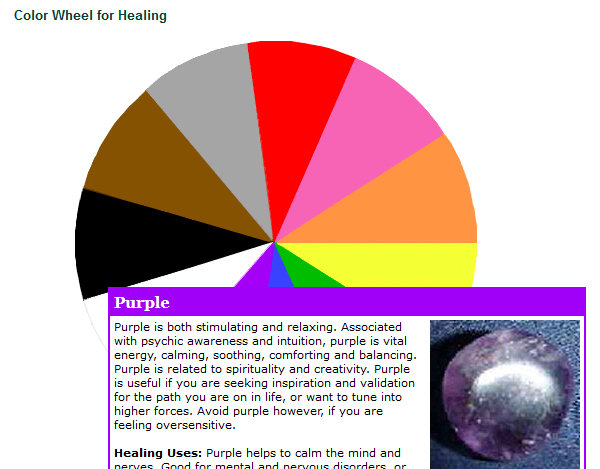 Use this Feng Shui web tool to learn healing use of these colors. Click on each color to learn how that color could support you in healing yourself and your life! (Web tool)
Front Door Guided Meditation Audio
By Deborah Redfern


A door is a metaphor for transitions. The front door marks the transition between the outer public world and your inner private world. Your front door is the threshold between these two worlds.

Get into a relaxed state and imagine you are standing at your front door. Imagine approaching your front door, putting your hand on the doorknob and opening it. Imagine stepping over the threshold. See what fascinating discoveries you make as Deborah guides you in this Front Door Meditation.

Find access to these bonuses in lesson one.
Money Back Guarantee
| | |
| --- | --- |
| Course with extras valued at: | $267 |
| | Enroll Now! |
| Your price: | $57! |