Secrets to Healing with Feng Shui and Color Revealed
Healing with Feng Shui and Color


by Deborah Redfern

[ Course Reviews ]




(Audio Message from Course Instructor)







Feng Shui Course Description
Do you know which colors in your home, office, or wardrobe...
| | | | | |
| --- | --- | --- | --- | --- |
| | Energize, uplift, and ground you? | | Yes | No |
| | | | | |
| --- | --- | --- | --- | --- |
| | Drain or scatter your energy? | | Yes | No |
| | | | | |
| --- | --- | --- | --- | --- |
| | Depress, repress, overload, or isolate you? | | Yes | No |
| | | | | |
| --- | --- | --- | --- | --- |
| | Support you and create a sense of well-being for you. | | Yes | No |
| | | | | |
| --- | --- | --- | --- | --- |
| | Do you know your feng shui element and how to tap into this energy? | | Yes | No |
If you checked off "No" to just one of the above boxes, read on!
Feng shui is the ancient art of living in balance. When you are in a balanced environment, you naturally experience a greater sense of harmony and well-being. As a result, you attract—without great effort—new opportunities, increased abundance and success in life.
Color is a powerful feng shui tool and numerous studies have shown that the colors you choose affect you on a physical, psychological and spiritual level. In short, color can deplete, depress or enhance. From the clothing you wear, to your home décor… if you change the color, you change the energy. Learn how to bring more balance and harmony into your life by choosing colors with consciousness. Examine whether the colors in your life contribute to your sense of well-being—or not. This course invites you to take an introspective journey and learn ways to heal, support and honor the
true essence of you
using feng shui and color.

I've studied other color courses before, and Deborah's is fabulous! And, the online learning experience is easy and fun to use. If you ever thought of dipping your toes into the world of color, this is a great way to start, or to add to your knowledge.
~ LuAnn Cibik

Who is best served by this e-course?
You will be well served by this feng shui colors course if you wish to...
Create balance and harmony in your home to draw in new opportunities, increase abundance and success.
Establish a plan for home décor that honors and supports those who live there.
Use colors to support healing, recovery and well-being.
Create a ward-robe rich in colors and style that supports and honors you.
Learn about feng shui philosophy.
Special Feng Shui Color Course Features
Just take a look at some of the
testimonials
sent in about this feng shui colors course...
(move mouse over text to pause)
Course Objectives
Examine chi and the energy of colors.
Identify the colors that energize, uplift, and ground you.
Identify which colors drain energy, scatter energy, depress, repress, overload, and isolate.
Learn when too much of a particular color can impacts you negatively.
Discover what colors support you and create a sense of well-being for you.
Learn how color heals and how to apply color healing to your life.
Explore the system of elements by examining the tradition of four elements (air, water, fire and earth) observed by Native American tribes.
Determine which element aligns with your personality and which element aligns with each person in your home.
Create a floor plan and color scheme for each room in your home. A plan that balances different elements and introduces healing color schemes so that each person living there is honored and energized.
19 Lessons
[mouse over to see course syllabus]
Recommended Course Delivery Pace:
Weekly or Bi-weekly (i.e., every other week)
Begin your journey now! Have each lesson of this feng shui colors and healing course delivered to your email inbox on the start date and at the frequency of your choosing by clicking the
Enroll Now
button.
Look What else Comes with this Course!
Space Clearing Aromatherapy Blend Liquid Smudge
Proprietary blend by Deborah Redfern
Traditional Native American Smudge Sticks are used to remove stagnant energy fields around people, to clear undesirable vibrations out of homes, and to promote health. But they use fire and create smoke, which is not appropriate for all indoor spaces. Essential oils can be used instead of dried herbs, invoking the spirit of water and air for clearing purposes. Combine this blend of oils with filtered or distilled water and spray mist around a person and/or a room. This Space Clearing recipe transcends several ancient traditions.
(PDF)
Guided Meditation:
The Bagua Journey of Life



By Deborah Redfern
Be guided through the areas of the Bagua and embrace the wisdom each area has to teach you. Deborah's gentle and reassuring voice guides you on this 11½ minute journey.

Plants in Feng Shui: What, How and Where (PDF)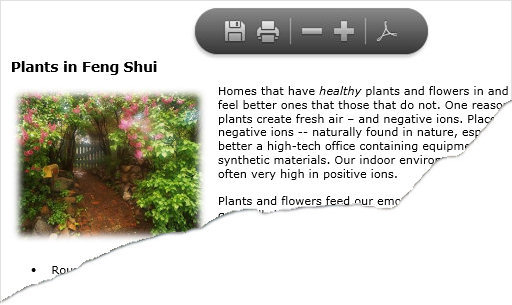 Discover 19 plants/trees with particular Feng Shui symbolism in this one page PDF. Also discover how the shapes of leaves, presence of thorns and use of artificial plants can enhance or hurt your home's Feng Shui. Finally, learn where to use plants in your home for optimal balance and harmony! (PDF)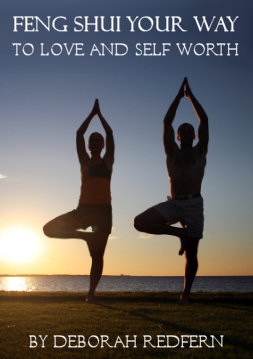 Feng Shui Your Way to Love and Self Worth
By Deborah Redfern




This Feng Shui workbook is designed to support you on your journey towards a healthy and loving relationship with yourself and others! Exercises guide you to explore what is working well in your relationships and what you want to create. Discover changes you could make — not only the physical changes in your home according to the bagua but changes in your life, including habits and beliefs. (PDF)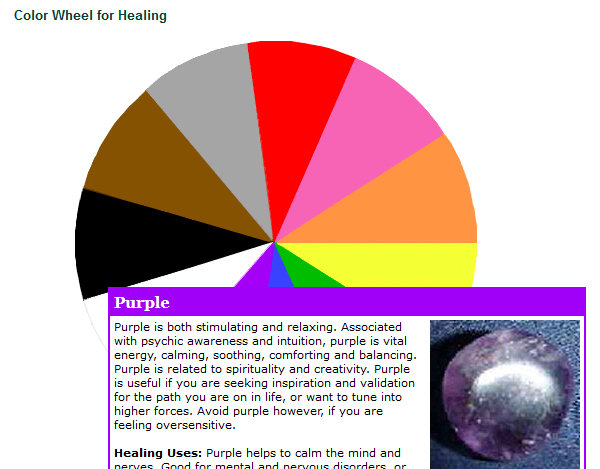 Use this Feng Shui web tool to learn healing use of these colors. Click on each color to learn how that color could support you in healing yourself and your life! (Web tool)
Front Door Guided Meditation Audio
By Deborah Redfern


A door is a metaphor for transitions. The front door marks the transition between the outer public world and your inner private world. Your front door is the threshold between these two worlds.

Get into a relaxed state and imagine you are standing at your front door. Imagine approaching your front door, putting your hand on the doorknob and opening it. Imagine stepping over the threshold. See what fascinating discoveries you make as Deborah guides you in this Front Door Meditation.

Find access to these bonuses in lesson one.
Money Back Guarantee
| | |
| --- | --- |
| Course with extras valued at: | $247 |
| | Enroll Now! |
| Your price: | $47! |
Deborah Redfern, author of
Odyssey of the Heart, Paths to Wholeness through Feng Shui
, specializes in de-cluttering your life on the spiritual, physical and emotional levels, using the tools of feng shui and soul coaching. She is owner of
Feng Shui Coaching
and
Estel Interiors
, which offers certification courses in feng shui and space clearing. She resides in Victoria, British Columbia with her husband and two cats. Her Self-Healing Expression courses are