Are you proactively creating your own romantic destiny?
Find Your Spiritual Soul Mate:
Transforming Your Romantic Destiny with A Romantic Resume

by Rev. Laurie Sue Brockway



(Audio Message from Course Instructor)






The Romantic Resume course helped me clarify what it is that I truly seek in a romantic relationship and what I bring to it. It asked questions that I hadn't thought to ask. I definitely recommend this course to others!
~ Karen, North Carolina

Asking yourself, Will I ever find love?
| | |
| --- | --- |
| | Are you stuck in a love rut? |
| | Find yourself yearning for that special someone? |
| | Pondering questions like, how to find true love? |
If you checked off just one of the above boxes, read on!
Many of us grow up counting on a fairytale romance, where love magically happens without effort. Sometimes we just coast along wishing and hoping for that
happy ending
. While it is healthy to believe in the miracles and magic of love, it is also possible to be practical and proactive in creating your own romantic destiny. The search for true love is a lot smoother and healthier if you know exactly what you seek in a relationship. Once you have this clarity, you can literally put a casting call out to the Universe for that fabulous co-star!
This soulmate course is a
Soul mate Project
in which you use your intellect, emotions and spirit to clarify and put forth your intentions for love. In this uplifting and supportive course, you will be carefully guided to construct your personal
Romantic Resume
based on your soul's desire for true and lasting love. You will also learn many spiritual tools to
draw
in your soul mate. This is an approach probably unlike any other you've tried to date but worth
every ounce
of effort and energy.
Soulmate Course Special Features ~
Access to special features will be provided within the lesson(s) they pertain to.

Online Romantic Resume Builder to find your soulmate (lesson 25)




Web Tool: Romantic Resume Questionnaire (lessons 9 – 24)




Intention Wall for True Love
(lesson 1)
Let others help add energy to your quest for true love


Affirmations and Meditation for drawing in true love.


Exercises to clear and release energetic blocks.


Visualization & Meditation exercises
Just take a look at some of the
testimonials
sent in about this soulmate course...
(move mouse over text to pause)
Soulmate Course Objectives
Learn an alternative approach towards love, while examining the traits you value in your "ideal" mate – from the physical, to the practical, to the spiritual.
Evaluate and be guided on how to liberate yourself for new love by releasing past relationships – an important stepping-stone for your future.
Deeply explore your preference on issues such as living habits, religion, work styles, finances, compatibility, commitment, and personality – to name a few.
Learn meditations, affirmations and prayers for drawing in your soulful love.
You will gain clarity on many issues you probably hadn't considered before. Finally, in a surprisingly simple manner, pull together this newfound clarity to create your own personalized Romantic Resume – thereby planting the seeds for the romance of a lifetime.
30 Lessons
[mouse over to see course syllabus]
Recommended Course Pace:
daily receipt of lessons
Author's note to learners regarding the recommended course pace:
If you don't have time to "do your daily mini-assignments," take a moment to focus, pray or wish daily in the framework of the course. You can always play catch-up a few days later. Receiving daily lessons serves as a symbolic gesture of your commitment; help to build momentum and guide your subconscious mind to focus on your heart's desire.
Look What else Comes with this Course!
Get Ready for Your Soulmate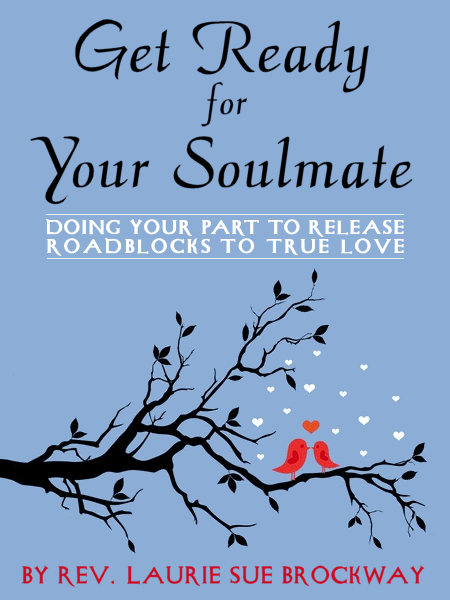 by Rev. Laurie Sue Brockway
This
Soulmate Workbook
helps prepare singles for their soul mate and answers questions like:
What's my role for preparing for soulful love?
What about my "emotional baggage?"
What do I have to pay attention to?
How do I identify true love?
What's the mythology that guides me?
How do I feel about being single?
How can I get closer to the love I desire?
What is the right time and pace?

(Downloadable PDF ebook - 25 pages)
Available in Lesson 1
Feng Shui Your Way to Your Soul Mate: The Secret Path to Love and Marriage
by Rev. Laurie Sue Brockway
Is your love life is at a standstill?
Do things seem out of balance and off-centered?
Are you feeling stuck in the lack-of-relationship blues?
Does life in general look a little messy?
If so, it may be time for a
spring cleaning
of the heart and soul!
Correct "mistakes" in your life and home that may deter love from knocking at your door.
Making your life and home a
soul mate-friendly place
is productive and fun! This 46 page ebook with graphics walks you through the process.

(Downloadable PDF ebook - 46 pages)
Available in Lesson 19
Heart Opening Chant
by Ana Hernandez & Ruth Cunningham
This uplifting chant moves the heart to its innate state of openness, compassion and peace. Gifted "Song Healers" Ana and Ruth have been collaborating performers and sound healers since 2001. They have facilitated experiences of healing sound and chant at conferences, workshops, and concerts, and are often called upon to create innovative liturgies. This particular chant (track 5) is from their CD, Harc: Inside Chants. The work of HARC came out of their individual practice and experience with chanting and sacred sound, and their desire to share with others the potential of sound and music to transform lives.

(Downloadable MP3 audio)

Available in Lesson 26


Rituals for Love and Romance
Attract Your Soul Mate with
Self-Love and Ceremony
by Rev. Laurie Sue Brockway
Learn an array of love rituals, ceremonies, and meditations that can support you in loving yourself and attracting your soul mate! In this 70 page PDF ebook, you will be guided to create, personalize, and perform rituals, ceremonies, exercises and meditations designed to help you heal and release unresolved issues that stand between you and true love. Rituals help us connect to the sacred and extraordinary and they also help us to bring divine energy into our daily lives. They allow our souls to immerse in a spiritual experience and they empower our subconscious minds to manifest a new reality. Discover powerful love rituals, meditations, and exercises to draw in and attract your soul mate.
You will also find some true
soul mate success stories
– sure to inspire – in this ebook!

(Downloadable PDF ebook - 71 pages)
Available in Lesson 27
Heart Opening Meditation
by Rev. Victor Fuhrman
Be guided to open your heart to yourself. Rev. Victor Fuhrman guides you through a meditation to help you experience love for yourself in a deep and profound way. His deep, encouraging voice speaks to your soul with the message that loving yourself is an essential experience that prepares you to open your heart to another. Finding and activating the special love that dwells deep within you also helps activate the spiritual energy that will help you attract and draw in your soul mate to you; someone who will recognize that love and reflect it back to you.

(Downloadable MP3 audio)

Available in Lesson 28


| | |
| --- | --- |
| Course with extras valued at: | $244 |
| | Enroll Now! |
| Your price: | $57! |
Begin your journey now! Have each lesson of this course delivered to your email inbox on the start date and at the frequency of your choosing by clicking the
Enroll Now
button.
P.S. Enroll now so you don't find yourself in the same love rut three months from now.
About the Instructor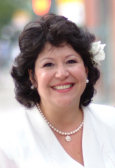 Rev. Laurie Sue Brockway has always believed in soul mates. She is a New York City wedding officiant, journalist and author who has guided thousands of singles toward true love and hundreds of couples on their journey to the altar.
New York Magazine
lists her as one the top interfaith officiants in the NY. For over 15 years, she has helped couples and families manage: wedding engagements, conflicts and strategies for reducing wedding stress. She has written extensively on love, romance, sex, marriage and weddings and is widely recognized as a relationship expert and respected specialist in interfaith, intercultural and highly personalized nondenominational weddings.
She began her career, years prior to her ordination, as an advice columnist, reporter, and then served as
Editor-in-Chief
at two national magazines. She continues to be called upon to share her insights on love, relationships, soul mates, and marriage as an online columnist and editor. Most recently, she served as
Love and Family Editor
at the award-winning multi-faith website
Beliefnet.com
and
Emotional and Sexual Health Editor
at
EverydayHealth.com
.
She is currently a columnist for
The Huffington Post
and is the author of 13 books, including
Your Perfect Wedding Vows,
Your Interfaith Wedding: A Guide to Blending Faiths, Cultures and Personal Values into One Beautiful Wedding Ceremony
and
Wedding Goddess: A Divine Guide to Transforming Wedding Stress Into Wedding Bliss>. And she is the author and instructor of these popular SelfHealingExpressions.com courses: