Ready to Realize the Healing Power of Crystals?
Crystals for Healing:
Crystal Therapy in Multi Dimensions

By Margaret Loris


Enroll Now!


Learn to harness the healing energies of crystals!

Crystals are a vibrational healing tool which can help support a wide range of health challenges, including:
Headaches
Insomnia
Low energy
Low libido
Difficulty with study and concentration
Mental distress
Depression
Anxiety
Grief
PMS/Menopause
Thyroid Health
Weight loss
Cold/Flu
Disease
Immune System
Pet Health...

And this is just the short list! In essence, crystals assist the body in shattering and throwing off that which is causing infection or disease. Crystals are not necessarily to be used instead of your current health care efforts but used in addition to those efforts. Crystals (a.k.a. Healing stones) could provide just the exact vibrational shift needed to empower your healing efforts!

Crystals can also heal on an emotional and spiritual level, for example:
Magnify and clear energy
Clarifying boundaries with difficult or challenging people
Grounding and being present
Cleanse illusions of false responsibility so you may discover your true self
Counter frustrations and helplessness
Spiritual Protection if you leave yourself open to negative energies or influences
Attract and manifest abundance.
Heal a broken heart
Developing Intuition
Connecting to All That Is
Enhancing your Meditation PracticeAura Cleansing
Connection to life purpose and happiness
Empower yourself
And much more!


Crystals support healing in that negative energy that has manifested into emotional, mental, spiritual or physical distress or illness may be released and transmuted. Then deep and profound healing may occur. This crystal therapy course focuses on the why, when, where, what, and how to use crystals for the healing of the self and others.

Crystals have great specialized gifts. Each crystal contains a unique vibration and radiates specific healing properties which may be used to amplify spiritual energies. This online crystals course guides you in understanding and embracing those unique vibrations and properties for healing.

Crystal Therapy has been part of the healing arts since ancient times. There are healing, spiritual and magical practices involving crystals in virtually every culture of the world. Throughout the ages, crystals have been used to:
Provide or support healing,
Spiritual advancement,
Psychic protection,
Attract abundance,
Mend broken hearts, and
Assist in psychic and spiritual communication.
Many maintain that enlightened beings (including Jesus, Mother Mary, Buddha and St. Germain) used (and continue to communicate and heal through) crystals.

Crystals heighten intuitive abilities and empower us to tap into our natural self-healing abilities promoting optimum physical, mental, emotional and spiritual well-being. Crystals are vibrational tools which help to harmonize, restore, and balance the chakras. As the chakra (i.e., your energy centers) are harmonized and balanced, healing of the physical, emotional, mental, and spiritual bodies may occur.

The use of crystals and stones as energy transmitters of spiritual information and vibration are unlimited. You are invited to discover the secrets of these powerful and dynamic tools by enrolling in this comprehensive online crystal course today!



In lesson 12, we learned about a stone that can assists in healing the respiratory center and nervous system. It is deemed a powerful throat healer. It also assists in recovering quickly from a cold or the flu; helps heal thyroid deficiencies, and lymph infections. While editing this lesson and working with the featured stone, both my husband and I developed head colds around the same time. It did not escape me that my head cold lasted just two days while his lasted five days. I was working with this healing stone at the time; he was not.
~ June Cook, Editor

This Crystals for Healing Course will guide you to:
Select
Cleanse
Charge
Program
And how to use crystals for healing.

You will also learn about crystal layouts (that is, where
and how to place stones on the body) for healing.


When using crystals for healing, you are invoking their inherent properties of color, chemical composition, atomic structure, physical shape and spiritual vibration. Learn which stones to select and how to use crystals for healing.




Special Course Features

Printable chakra stones chart

Downloadable guided meditations

Photographs of crystal layouts

Selected Videos

Downloadable crown chakra meditations

Downloadable etheric body chakra meditations

Printable journaling tools

Interactive quiz

Recommended articles and resources to deepen your exploration

Certificate of completion

(upon completion of coursework and lessons)










Just take a look at some of the

testimonials

sent in about this course...




(move mouse over text to pause)



17 Lessons


[mouse over to see course syllabus]



Recommended Course Pace: Weekly


Look What else Comes with this Course!
The seven ebooks in this bonus package guide you to identify which healing crystals best support you for a given challenge and how to use them. Each ebook include color photos of the featured healing stones. The discussion group is a valuable opportunity to connect with the course instructor and other course students during and beyond the course lessons.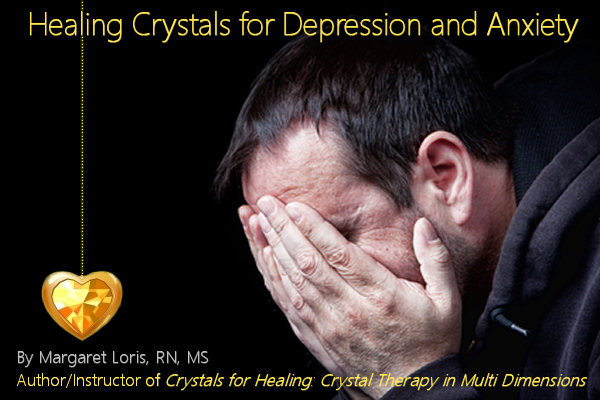 Healing Crystals for Depression and Anxiety
by Margaret Loris, RN, MS
Many people, worldwide, struggle with depression or anxiety. Healing crystals are an awesome addition to anyone's metaphysical tools kit for this challenge! Learn which stones can support with this challenge and ways to use them.
Find PDF in lesson 10.



(12 pages)
Healing Crystals for Your Immune System
by Margaret Loris, RN, MS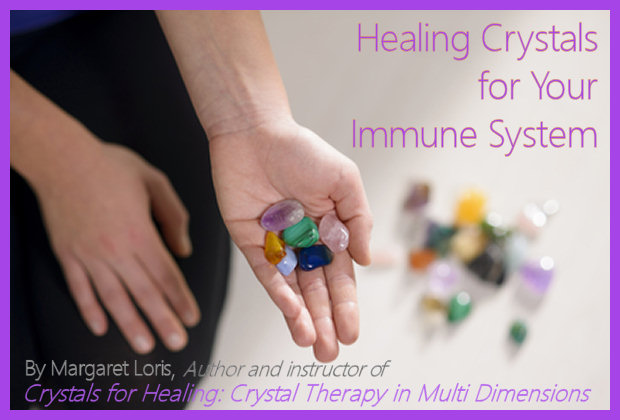 Whether you are under the weather or struggling with a serious disease, crystals can be a part of your healing tool kit! Learn which crystals you can use to support your immune system and how to use them for healing in this bonus ebook. Details on
Elixirs
(including how to make, use and store them) are also provided in this ebook.
Find PDF in lesson 9.



(14 pages)
Crystals to Support Thyroid Health
by Margaret Loris, RN, MS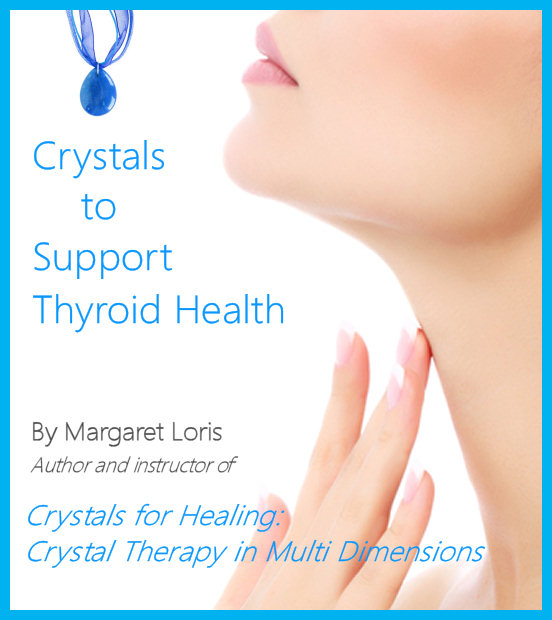 The old adage that
good things come in small packages
could easily be applied to your thyroid. Your thyroid is responsible for the body's metabolic processes, makes hormones that control the way your body uses energy and much more. But when this little gland isn't working properly, it's a problem; it's a health problem. Learn which healing stone support thyroid health and ways to use them.
Find PDF in lesson 12.



(15 pages)
Crystal Healing for Women: Stones for PMS and Menopause
by Margaret Loris, RN, MS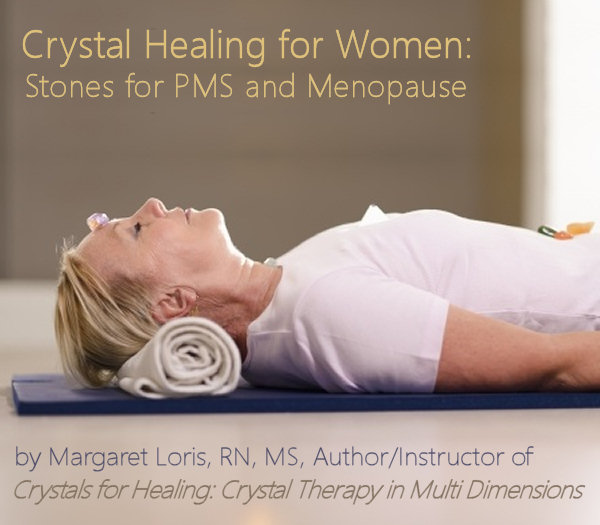 Premenstrual syndrome (PMS) can include headache, weight gain, fatigue, insomnia, irritability, anxiety, and depression, to name a few symptoms.
The hormonal changes that take place before and during menopause can product yet another list of symptoms, such as: hot flashes, sleep disturbances, memory loss, fatigue, panic attacks, poor concentration, weight gain, and mood swings among others! Learn which two powerful crystals Margaret Loris recommends for PMS and menopausal symptoms
and
ways to use them!
Find PDF in lesson 3.



(13 pages)
Crystals for Weight Loss
by Margaret Loris, RN, MS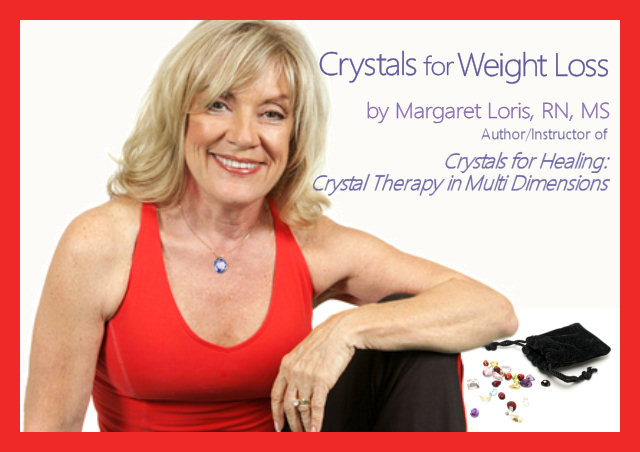 Have you tried everything out there, everything possible? Crash diets and other costly methods to lose weight without success? Well, maybe it's time to try something different. Crystals can help to clear weight issues on the spiritual, mental emotional and physical levels. Learn which crystals and how to use them for this common challenge.
Find PDF in lesson 2.



(13 pages)
Crystal Therapy for Pets
by Margaret Loris, RN, MS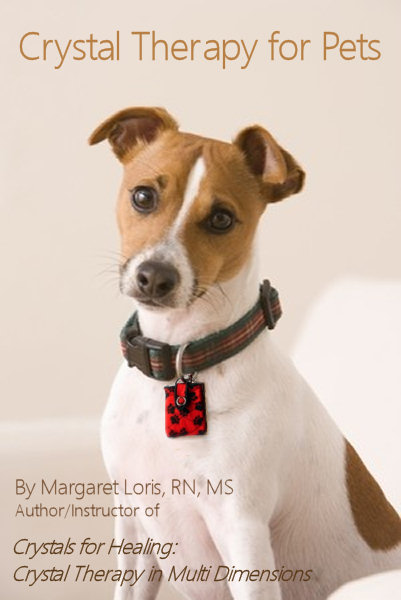 If you have ever stood by helplessly while your pet suffers, you will be grateful for this information. You have the ability to reach into the crystal kingdom and administer loving comfort, healing and assistance to your beloved pet. Crystals gentle healing qualities work wonderfully on companion animals. Learn which stones work best for animal companions suffering from challenges such as: abuse, trauma, anxiety, fear, anger, grief, etc., and how to administer crystal healing to support your beloved animal companion.
Find PDF in lesson 11.



(14 pages)
Private Group

Ask questions, receive answers and connect with course instructor Margaret Loris and fellow students — who are also on a journey of exploration into the wonderful world of crystals. Intended to be a safe and loving space to share your discoveries and ask your questions about crystals for healing.

Details in Lesson 1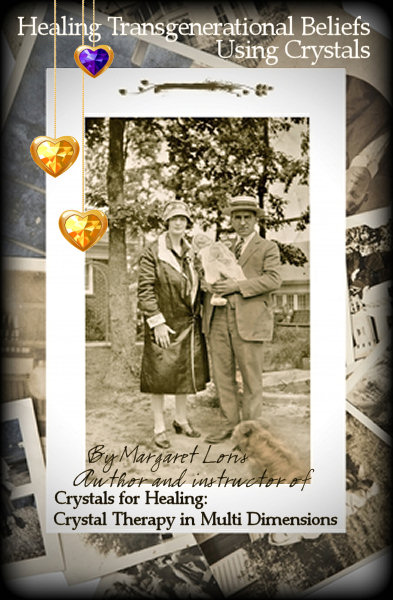 Healing Transgenerational Beliefs Using Crystals
by Margaret Loris, RN, MS
What drama keeps playing – generation after generation – in your family? In this PDF, explore healing crystals as a tool to help you:
Heal Transgenerational Beliefs
Remove Family Curses
Remove Bad Luck
Resolve Family Secrets
Learn which stones to use and how.
Find PDF in lesson 13.



(13 pages)



Take a journey into the mineral kingdom! Have each lesson of this Crystals for Healing course delivered to your email inbox on the start date and at the frequency of your choosing by clicking the Enroll Now button.




| | |
| --- | --- |
| Course with extras valued at: | $337 |
| | Enroll Now! |
| Your price: | $57! |
Margaret Loris, RN, MS, is a gifted healer and teacher with over 30 years of experience as a healer. She enjoys an international following and present seminars and workshops on DNA healing techniques to those ready to move into a new dimension of wellness for the 21st century. DNA Healing involves releasing beliefs about lack, limitation, disease, distress, pain and other lesser states of consciousness. Margaret teaches and heals long distance and in person. Her affection for all the kingdoms includes her crystal expertise and classes. She is the creator and instructor of the online crystal course
Crystals for Healing: Crystal Therapy in Multi Dimensions
and author of a bestselling ebook and numerous articles on the topic. Margaret also has a special interest in healing pets and is a frequently published author on this topic.
Margaret was previously a registered nurse with 21 years of operating room experience. In 1995, she graduated from the prestigious
Barbara Brennan School of Healing
in New York (a four year program). She is also certified in the
Australian Living Flower Essences
and is trained as a
Rapid Eye Technician
. In 1999, Margaret received her
Master's Degree in Esoteric Psychology
. She completed the
Karin Kabalah
course and was ordained in the St. Thomas Christian Church, Atlanta. She is a member of the
European College of Vibrational Medicine
and is certified in the
Jade Esthetics Academy of Massotherapy and Esthetics
. Now based in Chicago, she is the founder of the Chicago Healing Center.
Disclaimer: All material provided by Self-Healing Expressions is provided for informational purposes only. Consult your own physician or healthcare provider regarding the applicability of any opinions or recommendations with respect to your symptoms or medical condition.