Dream Course Overview
Dreams for Healing:
Using Dreams as a Pathway to the Soul





by Laura Grace






Dream Course Description
Learn your personal dream language and let it assist you in healing relationships, your body, and life by discovering the longings of your soul. Learn to recall and interpret your dreams, the language of the heart and soul, to heal your heart, body and life.
Learn to recall your dreams.
Examine common dream themes.
Discover what questions to keep in mind while falling asleep.
Explore specific "keys" in working with your dreams.
Recognize your own particular dream language (symbols).
Examine the various levels of your dreams (i.e., physical, mental/issue oriented, emotional, and spiritual).
Dream Course Objectives
Through recall and dream analysis of your nighttime dreams. . .
Recognize your limiting patterns so you are able to know yourself more deeply.
Solve problems in your relationships and face fears of intimacy.
Be alert to your physical health. Dreams have the ability to show you when your body is sick and what you can to do to heal.
Identify warnings such as:

When someone has deceived you,
Where you have missed the meaning of something important, or
How you have behaved in a way that has been hurtful to you or someone else.

Recognize issues that need to be addressed such as addictive behaviors, unhealed "hurts" in your relationships, taking a stand for yourself, speaking your truth, and releasing an unhealthy situation such as a job, relationship, or attitude.
Explore dreams for healing emotional issues such as anger, fear, and/or grief.
Special Course Features

Online Dream Journal

Printable Dream Scorecard

Common Dream Theme Dictionary

Common Dream Theme Flash Show

Chakra Chart

Numerology Chart
Just take a look at some of the
testimonials
sent in about this dream course...
(move mouse over text to pause)
Who is best served by this online dream course?
Those interested in learning to recall and interpret their dreams.
Those interesting in using their dreams to help heal the body, mind, heart, and spirit.
Those wanting to understand the meaning or significance of a special dream.
Those wanting to understand a recurring dream.
22 Lessons
[mouse over to see course syllabus]
Dream Course Reviews
Begin your healing journey now! Have each lesson of this dream course delivered to your email inbox on the start date and at the frequency of your choosing by clicking the
Enroll Now
button.
Money Back Guarantee
Dream Course Fee:
$34.95
Why e-learning?
Reportedly, e-learning results in a higher rate of information retention - with students demonstrating a 60% faster learning curve than those in instructor led classes. And, in contrast to a Web seminar, teleconference, or traditional class, our lesson delivery suits your lifestyle and schedule!
About this Author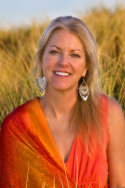 Laura Grace is a nationally acclaimed author, speaker and teacher. She serves as the Spiritual Director for the
Circle of Grace
in Central Coast, CA and has a background in world religions, developmental psychology, and integrative studies. She is trained in psycho-spirituality, Neuro-Linguistic Programming, dream analysis, and Gestalt therapy. Laura is a member of the
International Study for the Association of Dreams
, has taught over a hundred programs on both "waking" and night-time dreams, facilitated dream groups since 1994 and lectured extensively on dreams throughout the U.S. Her
Dreams for Healing
process examines the depths of dreams and the power they possess, the distinct "language" of dreams, and guides learners to put their (night-time) dreams to work in fulfilling their soul's blueprint. Visit her sites at
SpiritualCircle.org
and
www.LauraGrace.net
.