Pet Loss Support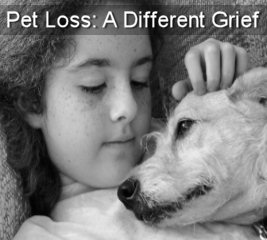 A Different Grief:
Helping You and Your Children with Pet Loss
Pet Bereavement Course
by Marty Tousley, RN, MS, FT, DCC
[
Course Reviews
]
(Audio Message from Course Instructor)
Pet Loss Support ~ Course Description
If you are struggling with your pet's chronic or terminal illness, facing a decision about euthanasia, or mourning the loss of a cherished animal companion, please accept our heartfelt condolences at this sad and difficult time. And accept this invitation to enroll in this pet loss course designed to support you on this difficult journey. We recognize that your family needs all the information, compassion and support you can find. Your family deserves to feel comforted, understood and acknowledged as a family in grief, and reassurance that you are normal and healthy in loving your faithful animal friend so deeply.

My work with bereaved animal lovers combines my background in counseling with my respect for the bond people have with their animals, and my own experiences of healing from the loss of both human and animal loved ones.
~ Marty Tousley, Grief Counselor

You will be served well by this pet loss course if your family is...
Experiencing grief and despair over the loss or the death of a beloved pet.
Surprised and even overwhelmed at the depth of your family's grief at the loss of your pet.
Feeling isolated from others because they tell you "it's just a pet" and they don't understand how you or your children feel.
Feeling guilty because the grief you feel at the thought of losing your family pet matches or even exceeds the sorrow you felt when one of your close friends or relatives died.
Wanting to better understand, help and support a child or family member who is mourning the loss of a pet.

Condolence Gift Order! If someone you know is grieving the loss of a beloved pet...
You can offer support and comfort over the coming weeks or months in the form of this pet bereavement course. Each pet loss course lesson (24 in all) will arrive in your friend's or loved one's email inbox at the delivery pace you determine (i.e., daily, weekly or every other week). These lessons provide a unique form of ongoing support and guidance. There is also access to discussion forum moderated by a certified grief counselor.
Because it's so uneven and unpredictable, with no specific time frame, grief can leave one feeling disoriented and out of control, especially initially. The lessons in this pet loss course offer information, comfort, and support to help the mourner better navigate the mourning process.
With today's grief healing course purchase, receive 14 bonus gifts and these special features...
Special Course Features
Making the Euthanasia Decision


Interview with Marty Tousley
(Lesson 13)
Discussion Forum Access



Forum moderated by Marty Tousley, a certified grief counselor. Connect with other grieving hearts 24/7.
(Every lesson)

Resources to Help with Pet Loss


Interview with Marty Tousley
(Lesson 1 & 17)

Pet Loss Movie recommendations


Films can help us move through the grieving process if selected with care. Printable list.
(Lesson 24)
Pet Loss Grief and Guilt



Interview with Marty Tousley
(Lesson 12)
Funerals for Pets



Article and audio.
(Lesson 20)
Resources


Numerous website, article, support resources, and book recommendations.
Managing the Grief that Accompanies Pet Loss


Interview with Marty Tousley
(Lesson 13)




List of ways to Memorializing a Cherished Pet
(Lesson 20)
Just take a look at some of the
testimonials
sent in about this Pet Loss course...
(move mouse over text to pause)
Pet Loss Support Course Objectives
This course is designed to support and help guide the bereaved through the grief process at their own pace and in the privacy of their own home.
Explore both the myths and the realities surrounding the experience of pet loss, including why it hurts so much and how it differs from other losses. These lessons will. . .
Explain how children of different ages may react to the loss of a beloved family pet, and how they differ from adults in expressing grief.
Guide and support you through the emotional upheaval of grief and come to a better understanding of the shock, disbelief, anger, guilt and sorrow that are commonly experienced when a beloved pet is lost.
Help you discover how to plan ahead for the death of a pet while honoring your own values and spiritual beliefs.
Offer up suggestions for meaningful ways to memorialize your faithful friend.
Outline what you can do when a pet has gone missing.
Explore how you can provide for your pet in case of your own unexpected absence or death.
Suggest ways to support and help a friend who has lost a pet.
24 Lessons
[mouse over to see course syllabus]
Recommended Course Delivery Pace:
daily or weekly receipt of lessons
Begin your journey now! Have each lesson of this course delivered to your email inbox on the start date and at the frequency of your choosing by clicking the
Enroll Now
button.
Money Back Guarantee
Course Fee:
$34.95
About the Instructor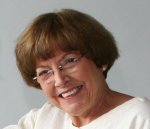 Marty Tousley, RN, MS,
FT
,
DCC
is a nationally certified grief counselor helping people find their way through grief following the death of a family member. She worked at Hospice of the Valley in Phoenix, Arizona as a bereavement counselor for nearly 20 years. A frequent contributor to healthcare journals, newsletters and magazines for the lay public, she has authored a number of books, booklets and articles addressing various aspects of loss and grief. With her special interest in grief and the human-animal bond, she also facilitated a pet loss support group for bereaved animal lovers in Phoenix for 15 years, and now serves as consultant to the Pet Loss Support Group at Hospice of the Valley and to the Halton-Peel Pet Loss Support Group in Ontario, Canada. Through her award-winning [Grief Healing] website, blog and online grief discussion forums, she maintains an active online presence, bringing information, comfort and support to those anticipating or mourning the loss of a loved one.
And these
grief-healing e-Books
among others:
How To Write a Eulogy: Guidelines & Examples for Paying Tribute...
Life Lines: How to Write an Obituary
Heartfelt Condolence Letters
Helping Another in Grief
Help for Writing Sympathy Thank-You Notes
Grief: Coping with Holidays and Other Celebration Days