Holistic Prayers: Healing the Mind, Body & Spirit through Prayer
by June Soyka Cook

[ Course Reviews ]



Course Description
Prayer, your communication or connection with the Divine, in its simplest form may be an
intention
and in its more soulful form, a
state of being
versus a
state of doing
. Depending on your beliefs, prayer may be accomplished with words, actions or in silence. This 32-lesson online prayer study course seeks to guide and support inward journeys leading to inner peace and healing using interfaith prayers, poetry and inspiring quotes.
A peaceful world evolves through peaceful hearts, so you will find inspirational messages and prayers for inner peace and the healing of the self. You will also find prayers for the healing of the planet. By embracing prayers of different religious traditions and grasping their spiritual underpinnings, we dissolve the barriers separating us and replace separateness with unity.
Just take a look at some of the
testimonials
sent in about this course...
(move mouse over text to pause)
Who is best served by this e-course?
You will be well served by this course if one of the below points 'speaks' to you at this moment and time. Do you...
Seek support for your personal healing journey - be that physical, emotional and/or spiritual?
Feel sad, depressed, and/or disconnected on some level?
Feel sad and discouraged by the state of our world, our planet?
Seek to connect with others for some greater purpose, like world peace or the healing the planet?
Grieve the loss of someone or something?
Seek to connect with the Divine on a deeper level? Depending on your beliefs, you may refer to this Source as God, Goddess, Spirit, Higher Power, the Divine, the Universe...
This course seeks to honor people of different faiths and on different spiritual paths.
Course Objectives
Examine uplifting prayers of different cultures and religions
Try out short visualizations or meditative exercises
Explore how people of the world pray
Define and expand your own personal spiritual practice
Evaluate and embrace your personal power
Evaluate and embrace the power of collective consciousness and prayer
32 Lessons
[mouse over to see course syllabus]
Recommended Course Pace:
daily or weekly receipt of lessons
Read All Course Reviews
Special Course Features
Begin your journey! Have each lesson of this course delivered to your email inbox on the start date and at the frequency of your choosing by clicking the
Enroll Now
button.
Course Fee: Free (valued at $34.95)
About the Instructor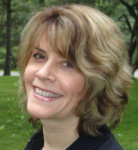 June Soyka Cook has over 25 years professional experience in higher education, corporate training and web education. In 1999, she was inspired to consider ways to use her professional experience along with Internet technology as a means to serve, education and empower the world community about
spiritual healing / holistic healing
, a personal passion of hers for many years. This led her to co-founding
Self-Healing Expressions
with her husband Ken Cook. In 2001, she developed the online course
Holistic Prayers: Healing the Mind, Body and Spirit Through Prayer
in response to 9/11. It was decided that this course be offered for no fee as a gift to humanity. Since the inception of
this spiritual healing course
, tens of thousands of people worldwide have received, praised and embraced the messages of this free online prayer study course.