Reiki Course
Reiki for Healing: Level II
by Maggie Wahls, RMT

[ Course Reviews ]



(Audio Message from Course Instructor)







Reiki Course Description
If you have been attuned and certified in
Usui Reiki Level I
, you are invited to continue the journey onto Level II in this online Reiki course. The Usui system of Reiki is one of the easiest natural healing systems known today. It is also the most effective way to transfer Universal Life Energy. Having been "attuned" to
Reiki (in level I)
, this Reiki course is for those ready to deepen their healing abilities -- for the self and others.
In this Reiki course, you will receive three healing symbols that will help you take your Reiki practice to a higher level. These symbols will (respectively): strengthen the effects of Reiki for you and bring protection to others; bring mental and emotional healing to a deeper level; allow Reiki to travel over time and space so you can send Reiki to people, places and situations from a distance.
The power and effectiveness of the Reiki symbols comes from the Level II attunement, which activates the symbols in your mind and hands. You will feel these symbols long before you have seen them over the course of these lessons thereby taking your hands-on practice of Reiki to a new level. Then as you take the time to learn each symbol in the coming weeks, you can add them to your practice and become competent in using them.
Special Features with this Reiki Course

Distance Usui Reiki 2 attunement Maggie Wahls, RMT is skilled at Distance Attunements. Lesson 1

Three Reiki Symbols See these powerful symbols drawn out for you. And learn how to use them for healing. Lessons 2, 3, 4

Energy Scanning Exercises Lesson 5

Reiki Audio Meditation Lesson 8

Useful form for your Reiki Practice. Lesson 9

Powerful Self-blessing (audio) Lesson 9

Reiki 2 certificate After you've been attuned & passed your online Reiki exam. Lesson 10.
Just take a look at some of the
testimonials
sent in about this Reiki course...
(move mouse over text to pause)
Reiki Course Pre-requisite
Reiki Level I
You must have been attuned and certified by a Usui Reiki Master Teacher prior to enrolling in this Reiki 2 course. Self-Healing Expressions offers an
online Usui Reiki Level I course
you are invited to take if you haven't taken Reiki Level I -- or need a review of Reiki.
Who is best served by this Reiki course?
You will be well served by this Reiki course, level 2, if one of the below descriptions applies to you...
You have taken Reiki Level I and wish to deepen your knowledge of Reiki for self-healing and the healing of others.
You wish to provide Reiki healing from a distance.
You have already taken Reiki Levels I and II but wish to cement and deepen your practice of this energy healing therapy.
You have already taken Reiki Levels I and II, and wish to re-establish your practice and appreciation of Reiki.
You are considering setting up a Reiki Practice of your own.
Reiki Course Objectives
Learn three healing Reiki symbols. Learn how to draw them with your mind's eye or hand, and learn which symbol to use for various healing situations.
Receive your Reiki II Attunement (Reiki Master Teacher Maggie Wahls is able to do attunements from a distance. The time of your attunement will be arranged via an online form in lesson 1.).
Examine techniques for sensing the flow of energy within the client. By using these techniques and your own developing inner senses, you can better determine where Reiki should be directed. While Reiki always knows where to go, having an increased knowledge of energy and movement will aid you in becoming a better Reiki practitioner.
Explore other uses of Reiki such as incorporating Reiki energy for animal healings, with crystals, flower remedies and homeopathy, house clearings, sealing auric leaks and more.
Learn to release negative behavior patterns (such as addictions) using Reiki.
Explore ways to establish and market your Reiki practice.
Examine whether teaching Reiki might be for you.
Usui Reiki Lineage of Instructor
10 online Reiki Lessons
[mouse over to see course syllabus]
Recommended Reiki Course Pace:
weekly or every-other-week receipt of lessons
*
*Important note from Reiki Master Teacher Maggie Wahls:
A
weekly
or
bi-weekly
(i.e., every other week) delivery pace is strongly recommended for this course. A
daily
deliver pace is
not
recommended. The practice of Reiki is an experiential growth, the more you work with each lesson and experience Reiki on the days
between each lesson
, the more powerful it becomes. Taking a new lesson daily will not give you the opportunity to practice each new step thoroughly and experience the natural growth and progression necessary to gain the full use of this gift called Usui Reiki.
Reiki Course Reviews
Look What else Comes with this Course!
Flash Cards
Reiki Hand Placements for Self-Healing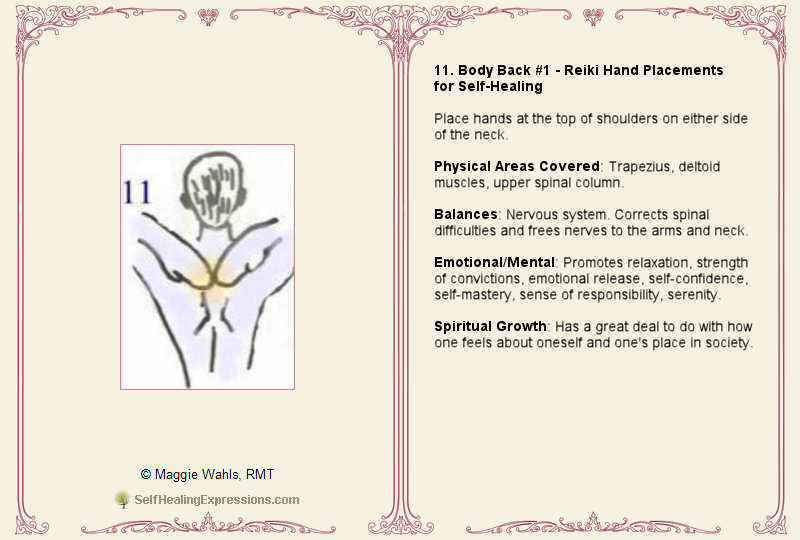 A Reiki treatment consists of the practitioner placing his or her hands on the self or another person's body having only the intent for the energy to flow. Print, cut and stack this set of attractive flash cards to help you remember the Reiki hand positions for self-healing. Use them for a daily a self-healing session until the hand positions become second nature to you.

Access in Lesson 5



Flash Cards
Reiki Hand Placements for Healing Another Person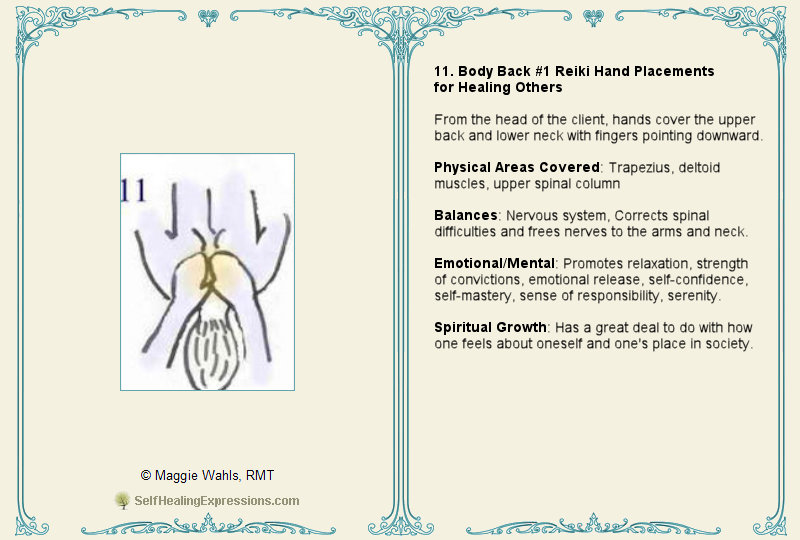 Print, cut and stack this second set of attractive flash cards to help you memorize the Reiki hand positions for a healing session on another person. Use these cards until the hand positions become second nature to you. The more you use Reiki, the stronger the Reiki energy flows through you.

Access in Lesson 5



Reiki Symbol Flash Cards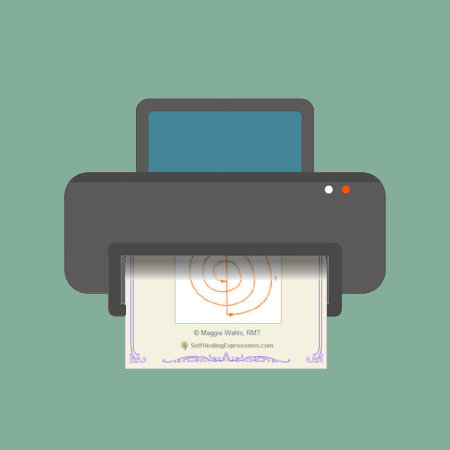 Take your hands-on practice of Reiki to a new level with the three symbols taught in Reiki Level 2. Print out three quick reference cards, one for each of the Reiki healing symbols taught in Reiki Level 2. Even the way the symbols are drawn is significant, so you will find these cards especially helpful at this stage of your Reiki training.
Access in lessons 2, 3, and 4



Expanding Your Potential as a Reiki Healer
By Shaman Elder Maggie Wahls, RMT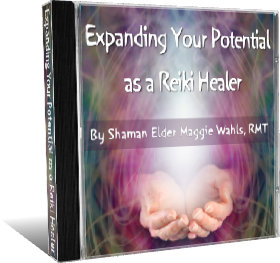 It is not always possible to be physically present for someone who is in need of healing. Consider those far away relatives, friends or clients suffering from an illness, dealing with surgery or some kind of trauma. Quantum physics reminds us we live in a world of energy. Reiki is life force energy and is not constrained by distance – so it can certainly be used for distance healing. Distance healing is part of the Reiki Level 2 training. In this informal talk, Reiki Master Teacher Maggie Wahls provides students with powerful insights into distance, Reiki healing and more.
Access in Lesson 4
Downloadable audio (4:07 min.)
Life Force Energy: A Reiki Healing Session on Another
By Maggie Wahls, RMT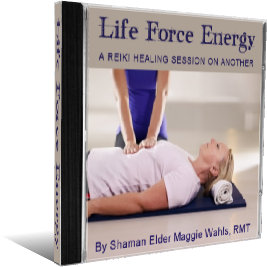 This unique Reiki training audio is perfect for new Reiki practitioners, as well as, inactive practitioners wishing to return to their Reiki healing practice. Download and listen to this helpful audio with headphones as you treat your clients. Reiki Master Teacher Maggie Wahls guides you through each hand position for the prescribed time. She whispers in your ear on details such as how the draw of Reiki energy may feel to you, the practitioner. And she shares what the client might say or experience during the healing session based on her decades of experience as a Reiki Master. As she moves through the hand positions, she reviews how each position can heal certain ailments. An invaluable training audio!
Access in Lesson 5
Downloadable audio (33:51 min.)
Usui Reiki for Animals and Pets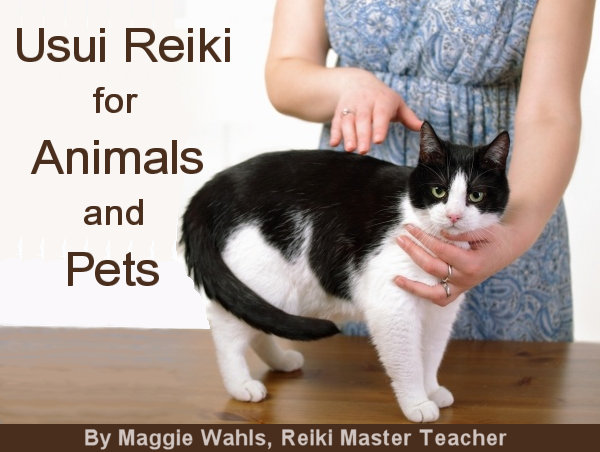 Our animal friends have health challenges the same as we do. Offering pets or animals Reiki healing is a loving gift which they are receptive to and enjoy. Reiki Master Teacher Maggie Wahls guides you on giving Reiki to animals in this PDF book which includes photos of a Reiki healing session on one of her dogs. She also shares some of her own stories about giving Reiki to animals over the years. An ebook new or seasoned Reiki practitioner will love!

Access in Lesson 10



14 pages
Guided Visualization for Reiki Self-Healing
Volume 2
By Shaman Elder Maggie Wahls, RMT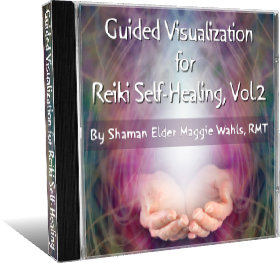 In her gentle and reassuring voice, Shaman Elder Maggie guides students on a powerful Reiki visualization for self-healing. See if you experience the healing energy transmitted through her voice as she guides you on this profound journey. An awe inspiring healer will even be presented to you to help with your self-healing session!

(This is a different visualization than is offered in her Reiki 1 course.)
Access in Lesson 7
Downloadable audio (14:30 min.)
Begin your journey now! Have each lesson of this Reiki course delivered to your email inbox on the start date and at the frequency of your choosing by clicking the
Enroll Now
button.
Money Back Guarantee
Course Fee:
$67
About the Instructor
Maggie Wahls has been a Reiki Practitioner since 1984 and a Reiki Master Teacher since 1986. A dedicated full time healer and holistic teacher, she is based in Missouri. A traditional Shaman born into a Russian lineage of Shamans over 400 years old,
she is fifth in lineage
from Dr. Mikao Usui, making her very close to the source of Reiki. Maggie Wahls teaches
Reiki I
and
Reiki II
through Self-Healing Expressions. And she offers free distance Reiki healing to anyone who requests it. She is a
Certified Universal Life Minister
since 1975 and a member of the
International Natural Healers Association
and the
Distant Healers Network
. She also created and teaches the popular
Self Healing Expressions
course,
Discovering the Shaman Healer Within
and is the author of
The Shaman Speaks: How to use the Power of Shamanism to Heal Your Life Now
- paperback.
Disclaimer: All material provided by Self-Healing Expressions is provided for informational purposes only. Consult your own healthcare provider regarding the applicability of any opinions or recommendations with respect to your symptoms or medical condition.