Embrace a Remarkable Gift of Healing with Your Hands
Reiki for Healing: Level I


by Maggie Wahls, RMT

[ Course Reviews ]



(Audio Message from Course Instructor)







Reiki Course Description
You are invited to embrace a remarkable gift of healing, the ability to heal with your hands. Reiki (pronounced Ray-Key) is an energy healing therapy. 'Rei' is the Japanese word, which means "universal" and is referring to a higher dimension of light and soul. 'Ki' is the Japanese word, which means the vital life force energy, which interpenetrates and connects everything in this Universe.
The Usui system of Reiki is one of the easiest natural healing systems known today. It is also the most effective way to transfer Universal Life Energy. Once you have been "at-tuned" to Reiki (in Lesson 3), you will be opened up like a channel and Reiki healing energy will flow through your hands of its own accord. Thereafter, you will always have this energy for healing yourself and others.
Reiki does no harm and is holistic in its effect. It reaches all levels of life and brings all these levels to their natural balance. Reiki energy is not your personal energy. It is a universal energy that exists everywhere and all the time. Reiki knows where to go within one's energy field to heal, to balance and to strengthen. You do not need to diagnose ailments or add your own energy. The Reiki flows through you to the person, place or thing you wish to bring into balance.
Special Features with this Reiki Course
Just take a look at some of the
testimonials
sent in about this Reiki course...
(move mouse over text to pause)
Who is best served by this online Reiki Course?
You will be well served by this Reiki course if...
You wish to learn and embrace Reiki for self-healing and the healing of others.
You have already taken Reiki I but wish to cement and deepen your practice of this energy healing therapy.
You have already taken Reiki I (and maybe even level II) but you want to re-establish your practice and appreciation of Reiki.
Reiki Course Objectives
Learn what Reiki is about and how it works
Discover the Reiki story, history, and Usui Reiki lineage
Receive your Reiki Attunement to permanently open this channel in your life (Gifted Reiki instructor Maggie Wahls, RMT is able to do Attunements from a distance. The time of your attunement will be arranged via email come lesson 3.).
Understand and experience your healing responses to Attunement
Learn Reiki Hand Placements
Balance the Chakras with Reiki
Examine the Elements of a Reiki Healing Session
Just Imagine...
Empowering yourself to tap into Reiki energy for healing with this coursework and a distance attunement. And being able to use Reiki on yourself, your family members, pets and others. Just think how amazing it will feel to connect with your Reiki guides as you take this journey towards wholeness.
The Reiki art of healing is an ability that has always been inside you, folded away and waiting to be developed.
Usui Reiki Lineage of Instructor
11 Reiki Classes Online ~ Lesson Titles
[mouse over to see course syllabus]
Recommended Reiki Course Pace:
weekly or every-other-week receipt of lessons*
*Important note from Reiki Master Teacher Maggie Wahls:
A
weekly
or
bi-weekly
(i.e., every other week) delivery pace is strongly recommended for this Reiki course. A
daily
deliver pace is
not
recommended. The practice of Reiki is an experiential growth, the more you work with each lesson and experience Reiki on the days
between each lesson
, the more powerful it becomes. Taking a new Reiki lesson daily will not give you the opportunity to practice each new step thoroughly and experience the natural growth and progression necessary to gain the full use of this gift called Usui Reiki.
Course Reviews
Begin your journey now! Have each lesson of this Reiki course delivered to your email inbox on the start date and at the frequency of your choosing by clicking the
Enroll Now
button.
Look What else Comes with this Course!
Finding the Chi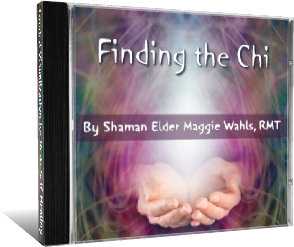 A Guided Meditation by Maggie Wahls, RMT
In this soothing guided meditation, experience your connection to Source/Oneness. This is a wonderful preparation meditation for any of the exercises throughout the course and beyond. Listen to it again and again.
Access in Lesson 1
Downloadable audio (18:13 min.)
Flash Cards
Reiki Hand Placements for Self-Healing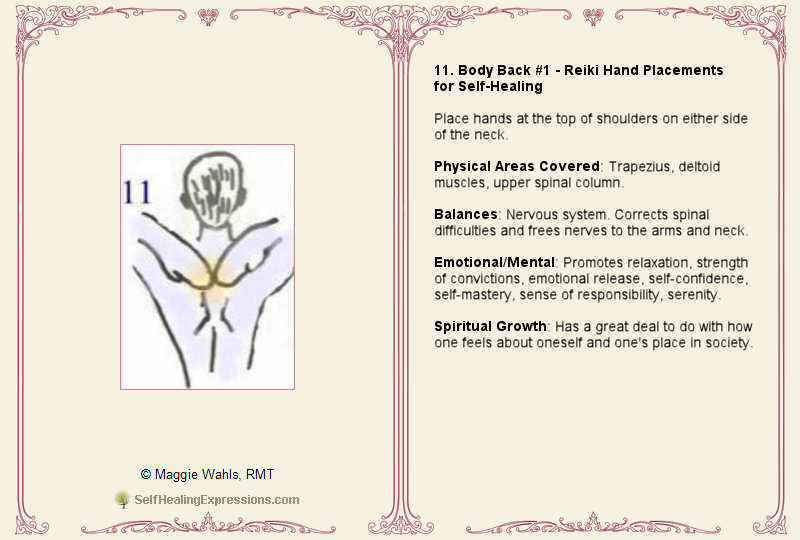 A Reiki treatment consists of the practitioner placing his or her hands on the self or another person's body having only the intent for the energy to flow. Print, cut and stack this set of attractive flash cards to help you remember the Reiki hand positions for self-healing. Use them for a daily a self-healing session until the hand positions become second nature to you.

Access in Lesson 5



Flash Cards
Reiki Hand Placements for Healing Another Person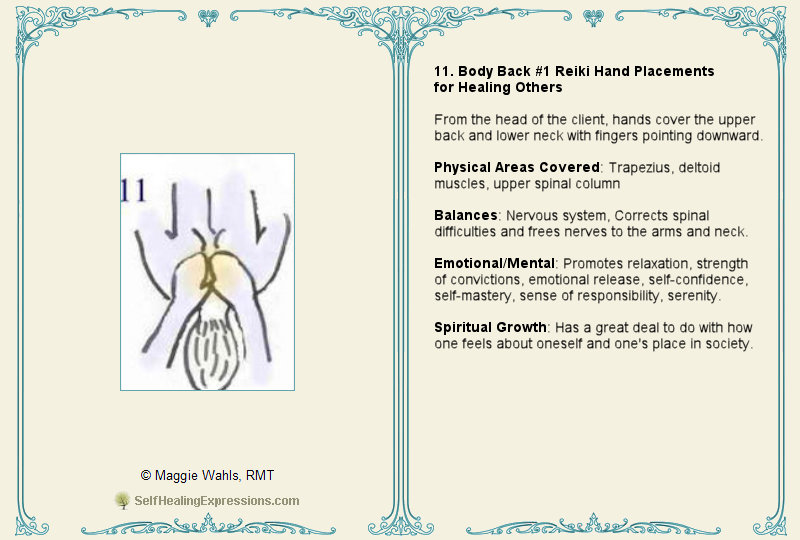 Print, cut and stack this second set of attractive flash cards to help you memorize the Reiki hand positions for a healing session on another person. Use these cards until the hand positions become second nature to you. The more you use Reiki, the stronger the Reiki energy flows through you.

Access in Lesson 5



"Just for Today..."
A Talk on the Reiki Precepts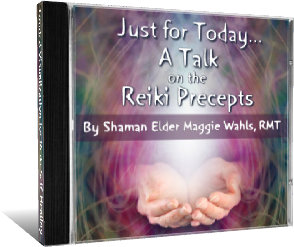 By Shaman Elder Maggie Wahls, RMT
Founder of Reiki, Dr. Usui, taught several principles known as Reiki Precept. In this 16 minute audio, Reiki Master Teacher Maggie, goes through the precepts and provides an explanation of each. As you learn to practice Reiki, you owe it to yourself and others to learn and honor these inspirational precepts.
Access in Lesson 6
Downloadable audio (16:09 min.)
Guided Visualization for Reiki Self-Healing
By Maggie Wahls, RMT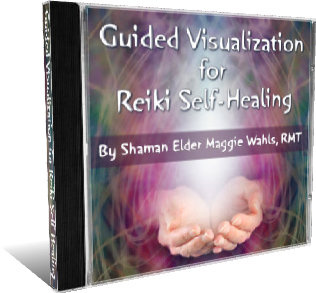 Download this soothing visualization and be taken on a healing journey of self-healing. This audio is especially helpful for those struggling with sorrow or anxiety.
Access in Lesson 7
Downloadable audio (18:13 min.)
A Self-Healing Journey with Reiki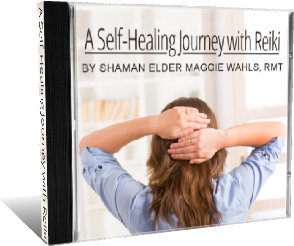 By Shaman Elder Maggie Wahls, RMT
Be guided on a head to toes Usui Reiki self-healing session by Reiki Master Teacher Maggie Wahls. This is an audio you will want to listen to again and again.
Access in Lesson 8
Downloadable audio (24:02 min.)
Usui Reiki for Animals and Pets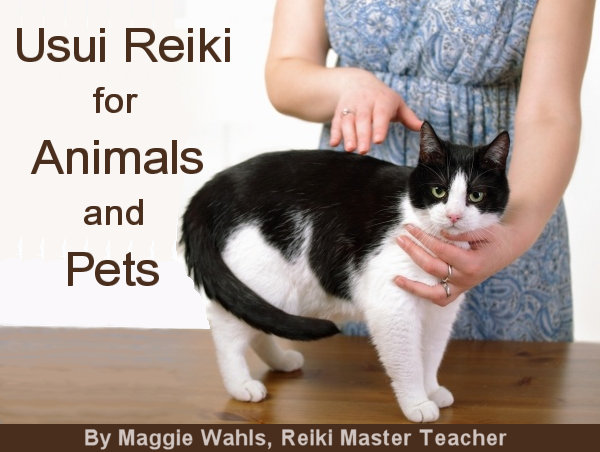 Our animal friends have health challenges the same as we do. Offering pets or animals Reiki healing is a loving gift which they are receptive to and enjoy. Reiki Master Teacher Maggie Wahls guides you on giving Reiki to animals in this PDF book which includes photos of a Reiki healing session on one of her dogs. She also shares some of her own stories about giving Reiki to animals over the years. An ebook new or seasoned Reiki practitioner will love!

Access in Lesson 10



14 pages
Money Back Guarantee
| | |
| --- | --- |
| Course with extras valued at: | $300 |
| | Enroll Now! |
| Your price: | $57! |
About the Instructor
Maggie Wahls has been a Reiki Practitioner since 1984 and a Reiki Master Teacher since 1986. A traditional Shaman of Russian lineage, she is a dedicated holistic teacher, author and full-time healer based in Missouri.

Shaman Elder Maggie is fifth in lineage from Dr. Mikao Usui, making her very close to the source of Reiki. She is gifted in giving Reiki Attunements from a distance for students taking her online Reiki courses.

She is the instructor and authored of these popular Self Healing Expressions courses:
Disclaimer: All material provided by Self-Healing Expressions is provided for informational purposes only. Consult your own healthcare provider regarding the applicability of any opinions or recommendations with respect to your symptoms or medical condition.