Are you being called to Shamanism?
Discovering the Shaman Healer Within
by Shaman Elder Maggie Wahls

[ Course Reviews ]



(Audio Message from Course Instructor)





Course Description

Aho! You are invited to take a journey and an exploration into the worlds and the way of the Shaman. Come and sit down before the fire with the Shaman as you calm your mind and open your heart to the teachings of the Elders. You are in the presence of powerful medicine and much will be given to those who are willing to learn. As the flames rise in welcome, listen to your heartbeat and hear the drums beating.
Shamanism is a spiritual way of life, not a religion. It's a practice that shapes all forms of spiritual healing. As you walk the path of this shamanic training course, you will re-member many skills, talents, places and people from your past that you have forgotten.
Let us walk together and re-learn those sacred parts of yourself together, you and I. Welcome to the reconnection to your purpose as healer. Let the Shaman Elder take the talking stick and listen to her words.
Take a guided walk down this ancient path of healing.
On this journey, you will be guided to:
Examine the relationship between human beings and the spirit world.
Discover ways to bring peace and healing into your life.
How to Spiritually Protect yourself.
The effects of Discordant Energies and Entities.
A Technique for Cutting Energetic Cords.
What to do if you are under a Psychic Attack.
Create your own power song for healing.
Discover the Inner Worlds that Shamans use to recover lost souls, to work with spirit guides and to find visions.
Re-member those skills and abilities buried deep inside you.
Connect with the healing properties of animals and plants.
Meet your spiritual guides.
Tap into ancient knowledge and future vision for healing of the self and the planet.
And more!
You will be well served by these lessons, if you:
Have you ever wondered what it means to be a Shaman
Do you have a passing interest in Shamanism
Have you felt called to Shamanic healing
These lessons will guide you to:
| | |
| --- | --- |
| | Provide healing for yourself and others. |
| | Find a framework in which to reach your own power. |
| | Connect with Native American wisdom. |
| | Begin to learn the skills, abilities and the way of the Shaman. |
| | Understand your connection with earth, nature and the universe. |
Just take a look at some of the
testimonials
sent in about this course...
(move mouse over text to pause)
15 Lessons
[mouse over to see course syllabus]
Recommended Course Pace:
weekly or bi-weekly (i.e., every-other-week) receipt of lessons
*
* Important note from Shaman Elder Maggie Wahls: A weekly or bi-weekly (i.e., every other week) delivery pace is strongly recommended for this course. A daily deliver pace is not recommended. The practice of Shamanism is an experiential growth, the more you work with each lesson and experience these teachings on the days between each lesson, the more powerful it becomes. Taking a new lesson daily will not give you the opportunity to practice each new step thoroughly and experience the natural growth and progression necessary to gain the full use of this gift.
Look What else Comes with this Course!
Join the Discussion


Moderated by
Shaman Elder Maggie Wahls
Meet up with Shaman Maggie and her other students on this NEW private Facebook page set up for this course. As you work through the course lessons, connect with this Shaman Elder and other students walking this path. All at your convenience and in the comfort of your own home!
You will find a link to this private group on the top navigation bar of each lesson.
Nature and the Shaman: Balancing the Macrocosm and Microcosm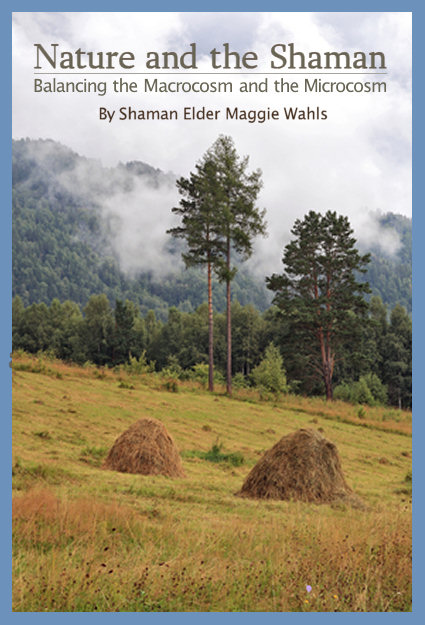 eBook by Shaman Elder Maggie Wahls
Shaman Maggie share ancestral knowledge passed down to her by her Shaman grandmother in this 17 page PDF. And she explains balancing the macro and micro aspects of one's existence. Furthermore, she shares details about ovuu, built to honor the old and sacred forest of her ancestors. Learn about spiritually powerful places in nature and how to the ancients tapped into this power.
Find access in lesson 1



(16 pages)
The Golden Triangle: A Tool for Healing
By Shaman Elder Maggie Wahls
Shaman Elder Maggie shares a powerful tool for healing with students in this ebook. This tool, given to her by her guides and ancestors, invites Creator to work
with
you,
in
you and
through
you to bring healing to another person place or thing. It may also be used for any number of challenging situations presented by life. Finally, it also protects and shields one from the negative energies of a troubled person, place or situation.
Find access in lesson 3



(15 pages)
Meet Your Spirit Guides

By Shaman Elder Maggie Wahls
This book guides you to open your line of communication with your Spirit Guide. Learn how to:
Make contact
Listen with your inner ear
Think with your heart
Distinguish between a true and false voices
And much more!
Find PDF in lesson 4

(33 pages)
Four Powers and Five Skills of Traditional Shaman Warriorship
By Shaman Elder Maggie Wahls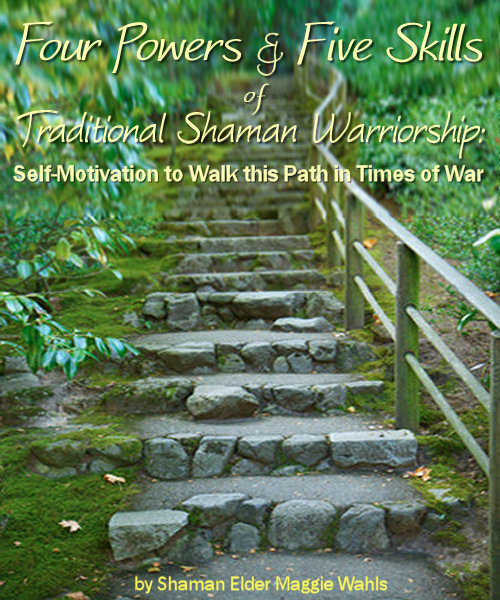 In this 30 page ebook, Shaman Elder Maggie guides students to deepen their learning of Shamanic wisdom. This includes examining four powers the mind can master and five skills essential for the Shaman healer to learn and apply.
Find access in lesson 4



(16 pages)
The Shamanic Inner Worlds
By Shaman Elder Maggie Wahls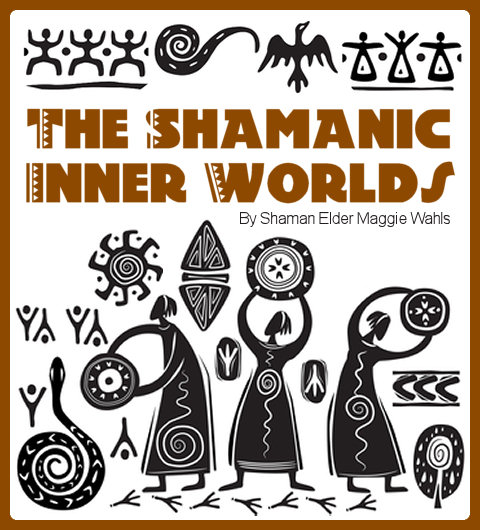 Shaman Elder Maggie shares her perceptions of the
Inners Worlds,
once again teaching with personal stories and rich examples. She also discusses the Shaman's ability to communicate with the spirit of all sentient creations such as trees, mountains, rivers, stones, plants and animals.
Find PDF in lesson 7



(14 pages)
The Bamboo Forest:
A Shaman's Guide for Unstable Times and Places
By Shaman Elder Maggie Wahls
The Shaman apprentice soon learns we are not isolated beings in isolated worlds. Everything affects everything. This ebook uses story to teach the Shaman apprentices how to navigate challenging times and places.
Find PDF in lesson 10



(12 pages)
Preparation for Becoming a Shaman Apprentice
By Shaman Elder Maggie Wahls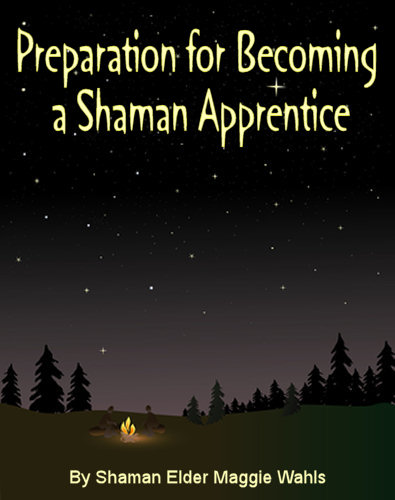 After this course, some students may feel
called
to Shaman Apprenticeship. This ebook provide details and preparation for those wishing to answer this call.
Access in lesson 15



(14 pages)
Course with extras valued at:
$337
Your price:
$67!
Begin your journey now! Have each lesson of this course delivered to your email inbox on the start date and at the frequency of your choosing by clicking the below
Enroll Now
button.
Money Back Guarantee
About the Instructor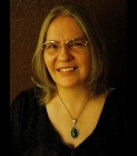 Shaman Elder Maggie Wahls, telepathic from birth, is a healer and traditional Shaman with a 400 year lineage in Shamanic healing. She has been counseling people all over the world for over 50 years. She is a Reiki Master Teacher, minister,
Course In Miracles
Study Facilitator, Animal Communicator and the author of the book,
The Shaman Speaks
. She is also the elder custodian of
Life Healing Community
in Winona, Missouri – a sacred holy ground of miracle healing. She is dedicated to helping people find their own freedom, health and power.
Although the teaching of Shamanism has traditionally been reserved for those of direct lineage, today there are fewer and fewer practicing Shamans in the modern world. In an effort to preserve her heritage and keep the powerful healing skills of Shamanism alive, special dispensation has been granted to Shaman Elder Maggie Wahls to help others
re-member
their own innate Shamanic skills that may have been forgotten. She the instructor and authored of these popular Self-Healing Expressions courses: