Writing to Heal
Writing for Life: Creating a Story of Your Own




A Journaling and Scrapbooking Course





by Sandra Lee Schubert




[ Course Reviews ]





(Audio Message from Course Instructor)
Course Description
Embark on a journey of writing a life and the telling of your own healing tale! This life affirming journaling course coupled with scrapbooking techniques guides you on an inward journey of self-discovery and self-healing.

The words can be bland and uninspiring to the public eye but to you they are the tears and smiles from your heart. More importantly, words have the power to heal.
~ Sandra Schubert

The journaling and scrapbooking techniques taught in this course provide a creative way to connect with your inner self and heal emotional wounds while documenting your story, your life, in a fun and unique way. When the lessons are completed, you will have a thick book and a treasured expression of YOU - more precious than anything you could buy.
From the stresses of unemployment to cancer, studies reveal…writing heals. The therapeutic power of journaling, proven and embraced over the last century by doctors and psychologist, is an effective tool to improve health and achieve healing of the body, mind and spirit. Writing to heal is been around for ages.
Life Course Objectives
Engage in a wide array of writing exercises and scrapbooking techniques designed to spark the imagination, help you delve inward, and get you writing quickly.
Deeply explore various aspects of you, your life and your world including your childhood, family, relationships, career, health, spirituality, and creativity - to name a few.
Writing to heal loss (in its various forms) and move towards acceptance.
Explore the Future You. Who will you be in five months or five years from now?
Learn and be guided by uplifting and healing meditations, visualizations, affirmations and prayers that suppose your authentic self.
Be guided towards wholeness, wellness and self-acceptance of your true self.
Special Course Features and Exercises
Who is best served by this e-course?
You will be well served by this course if you are interested in one or more of the following…
Embracing the healing effects of journaling and scrapbooking.
Creativity, self-discovery and self-healing.
A unique means to tell your story for yourself and/or for generations to come.
Developing or enhancing a foundation of journaling - that is, writing for life.
Just take a look at some of the
testimonials
sent in about this course...
(move mouse over text to pause)
20 Lessons
[mouse over to see course syllabus]
Recommended Course Pace:
weekly receipt of lessons
Begin your healing journey now! Have each lesson of this course delivered to your email inbox on the start date and at the frequency of your choosing by clicking the
Enroll Now
button.
Money Back Guarantee
Course Fee:
$34.95
Why e-learning?
Reportedly, e-learning results in a higher rate of information retention - with students demonstrating a 60% faster learning curve than those in instructor led classes. And, in contrast to a Web seminar, teleconference, or traditional class, our lesson delivery suits your lifestyle and schedule!
About the Instructor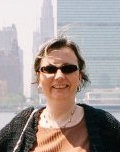 Sandra Lee Schubert is an interfaith minister, radio show host, producer, writer, and creative consultant who leads people to be their best by their telling stories online, on the air and in person. She co-facilitated the successful
Wild Angels Poets and Writers Group
at the historic Cathedral of Saint John the Divine. Her website is
Writing4Life.com
. You are welcomed to follow her on
Twitter
or
Facebook
.