Are You Facing The Loss Of A Beloved Pet?
Explore both the myths and the realities surrounding the experience of pet loss, including why it hurts so much and how it differs from other losses in this Self-Healing Expressions email course.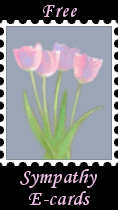 Finding Your Way
through Grief:
A Guide for
the First Year
Grieving the Death of a Parent
The First Year of Grief: Help for the Journey

Understand the nature of grief and loss and their potential impact on all aspects of your life: physical, financial, emotional, social and spiritual. Learn how to move through grief actively and make the process of mourning a healing one. Find support and guidance in dealing with the many facets of grief.





Dear Marty ~ I was nine when I lost my father. . .


Q & A by Bereavement Counselor Marty Tousley



Question:

I'm 35 years old and was nine years old when I lost my father. I live my life in a perpetual state of loss, it seems. I'm able to find a lot of joy, but it's always shadowed by an inevitable sense of sadness and loneliness. Sometimes, like right now, it just hurts and I don't know what to do with it.

I've had years of therapy, with various therapists; I've been in 12-step programs; read numerous books on the subject, but I still live with this deep sense of loss. I guess I just want to know -- WILL IT EVER GO AWAY?? I never had a counselor who specializes in this, and if I knew it could help, I'd do it.

Maybe I just need to embrace my pain and somehow make it my friend. As I heard one person say, it's like having your leg amputated - you always know it's missing, and you learn to get along without it. It seems that whenever the sadness comes, I'm surprised by it. Thank you for being out there. Even writing this mail has given me a boost.



Answer:

I was so touched by your message to me. You say you've been living with the pain of loss for a very long time and you're wondering, "Will it ever go away?" Unfortunately, I have no magic answers for you, my friend, because the longer I live my own life, the more I come to understand that loss is an inevitable part of living -- there simply is no escaping it. I'm reminded of the opening lines in M. Scott Peck's wonderful book, The Road Less Traveled:



Life is difficult. This is a great truth, one of the greatest truths. It is a great truth because once we truly see this truth, we transcend it. Once we truly know that life is difficult -- once we truly understand and accept it -- then life is no longer difficult. Because once it is accepted, the fact that life is difficult no longer matters.

You say you've had years of therapy, including 12-step programs, read lots of books, etc. -- but I'm not sure what has been the focus or the objective of the therapy you've received. Have you worked with someone who understands the mourning process and specializes in grief therapy?

You say your father died when you were just nine years old and you feel as if you live your life in a perpetual state of loss. Because you lost your father at such an early age, I'm sure you've had to re-visit your loss of him at virtually every stage of your development. You're constantly bumping into the fact that he is not here with you to share in all these milestones in your life, and each time it probably feels as if you've lost him all over again.



Shadows of Sadness and Loneliness


You say that every joy in your life is somehow overshadowed by an inevitable sense of sadness and loneliness. As you work your way through this grief journey of yours, keep in mind that it is the pain and resentment of losing your father that you will one day manage to "let go" of -- but you need never "let go" of your relationship with him. How we torture ourselves by thinking we need to "let go" of our loved ones who have died and say goodbye to them forever more. When you loved and needed your father that much, the last thing in the world you would want to do is to let go of him! I suggest thatyou stop trying so hard to let go of your father, and focus instead on letting go of your pain.

Below are links to some other sites, which may be useful to you as you search for the help you need. (See also the sites listed on the Links page of my Grief Healing Web site, under the Death of a Parent category):

Grieving the Loss of a Parent
Healing Mother Loss in Early Childhood
Lost A Parent Community
Male Father Loss: NPR Talk of the Nation for Wednesday, June 12, 2002
One Woman's Journey: Recovering from Grief (Book on Mother Loss, by Ruth Forman)

If you go to the Loss of a Parent Forum in the

Discussion Group

section of my site and read some of the messages posted there, you will see that what you are feeling is normal. Sometimes reading the accounts of others who are grieving reassures us that if others can survive the most devastating of losses, then somehow we too will find a way to survive as well. You might also like to read Clea Simon's insightful book, Fatherless Women: How We Change After We Lose Our Dads.



Grief is such hard work, and you ought not to be trying to do it all alone.


I suggest you ask your primary care physician for a referral to someone who specializes in grief or bereavement counseling so you can get some help specifically related to your grief issues. You might try calling your local hospice or funeral home and asking for a referral, as well as for information about bereavement support groups in your community. Also spend some time doing a little reading about what normal grief looks like, so you'll have a better understanding of what you're going through and what to expect -- it also may reassure you that what you're experiencing is quite normal under the circumstances.



Write in A Journal about Your Grief


I found it interesting that you said you never know what to do with your grief when it strikes, yet just writing an e-mail message to me about it gave you "a boost." Have you ever considered just writing in a journal about your grief? If this is of interest, I recommend a very helpful book which offers "simple yet inspiring writing exercises to help you resolve your pain as you transform your grief into words of hope and healing." The book is Writing to Heal the Soul: Transforming Grief and Loss through Writing by Susan Zimmermann. It might be just what you're looking for!

Please know that you are in my thoughts, my friend. If there were some way to protect you from the pain of all your past losses and all the losses yet to come as you continue living your life, I'd be the first to tell you about it. But as I said earlier, loss is an inevitable part of living, none of us is immune from it, and we all need to find our own ways of coping with it.

In any event, I wish you all the best, and when you feel ready to do so, I hope that you will let me know how you're doing.



Wishing you peace and healing,

Marty Tousley, Bereavement Counselor



Marty Tousley is the creator and instructor of the Self-Healing Expressions course The First Year of Grief: Help for the Journey. Click button to learn more about Marty and her grief-healing course.






Copyright © 2004 Martha M. Tousley. All rights reserved. If you are interested in publishing this article, please email .