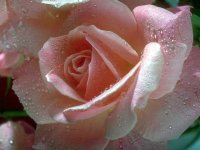 Spring Salad Greens and Edible Flowers
By Julianne Koritz, RD
Spring is the time of the year when your garden begins to take shape and you can grow your most prized vegetables. Starting in early spring, you can grow your cool weather vegetables such as lettuce, spinach, musclem and broccoli. The month of May is the time to begin to harvest these nutritious greens (for town and city dwellers, you can now find these greens in great abundance at the local farmers' markets or green grocers) and serve them with your meals. You can also include organic flowers for color, as well as, nutrients with these greens.
Edible flowers represent a variety of organically grown flowers such as nasturtiums, marigolds, pansies, caledulas, roses, daylilies, geraniums and many others. Edible flowers are available in some specialty produce sections, farmers markets or directly from local specialty growers. Edible flowers can be used fresh, without cooking, to add flavor, color and nutritional value to the meal. Here are some Spring-time Salad recipes to get you started:



Spring Green Salad with Edible Flowers



For a quick meal, wash fresh spinach. Wash and prep young string beans (end trimmed and slightly steamed in water). Mix greens with sunflower seeds, chopped walnuts, chopped apples, sprinkle goat cheese. Next, sprinkle cut marigolds over the salad and serve with raspberry dressing. Enjoy!



Pasta with Spring Green



1/2 lb Penne Pasta (or your favorite pasta)
2 T Balsamic Vinegar
1/4 cup Olive Oil
Garlic clove (pressed)
3-4 cups of organic garden greens
3 T Fresh Herbs (fresh parsley, oregano, and/or basil)
Fresh organic tomatoes (chopped)

Cook 1/2 box of penne pasta according to package directions, rinse.
Mix together: 1-2 Tablespoons of balsamic vinegar and 1/4 cup olive oil and pressed garlic. Pour oil mixture over pasta and toss until pasta is coated. Tear 3-4 cups of fresh lettuce, spinach and other greens from your garden. If you have fresh parsley, oregano and basil, add a few tablespoons. Toss the lettuce and fresh herbs with the pasta, add fresh tomatoes, salt and pepper to taste.
Copyright © 2003 Julianne Koritz. All rights reserved. If you are interested in publishing this article, please email
.
~~~~~~~~~~~~~~~~~~~~~~~~~~~~~~~~~~~~~~~~~~~~~~~~~~~~~~~~~~~~~~~~~~~~~
Know someone who might enjoy these recipes? Use our forward feature to send it to them! ~~~~~~~~~~~~~~~~~~~~~~~~~~~~~~~~~~~~~~~~~~~~~~~~~~~~~~~~~~~~~~~~~~~~~