Feng Shui Study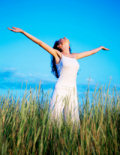 Dancing with Energy: 9 Steps to Manifesting Your Soul's Desires with Feng Shui
By Deborah Redfern, creator of
Healing with Feng Shui and Color
This Feng Shui course guides you on a journey to consciously create an environment that attracts more of what you want in life—with ease. Learn to interweave feng shui with the "
Law of Attraction
" theory to create a powerful tool for manifestation. The bagua map is an energetic grid consisting of nine templates for life. Activate the nine areas of the energy grid in your home and see what you begin to manifest in your life. Learn the symbols, images, tools, rituals, mindset, and meditations to do this. [
Learn more
]
How to Draw Your Floor Plan
by Deborah Redfern
It looks tricky, but you can do it! Your floor plan is a 'birds-eye' view of your home as though you were looking down through the roof. Begin with the basic shape, or footprint of the house, and draw the exterior walls. Add interior walls, indicating the position of doors, windows, stairs (if any) and the placement of furniture. Clearly indicate the position of the front door. Draw all floors of the house following the 'layer cake' method. Each floor is drawn and oriented the same way the main floor is.
Helpful hints:
Use a pencil so you can erase any mistakes you make. Graph paper helps you keep rooms in proportion to one another. The floor plan does not have to be precisely to scale. A rough sketch is all that is needed to get started.
Deborah Redfern, feng shui consultant and author of
Odyssey of the Heart, Paths to Wholeness through Feng Shui
, guides learners in feng shui study. She is the creator and instructor of these feng shui courses:
Healing with Feng Shui and Color
Dancing with Energy: 9 Steps to Manifesting Your Soul's Desires with Feng Shui
Copyright © 2007 by Deborah Redfern. All rights reserved.