Find Your Passion!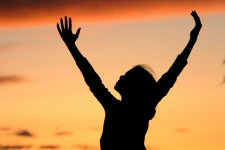 Discovering Your Life Purpose: Living the Life You Were Born to Live
Is your life filled with purpose? Every single one of us has a reason for being here on the planet right now, and every one of us has a unique contribution that no one else can make. It's the reason you were born. Are you living the life you were born to live? This inspiring life purpose training takes you on a journey of exploration and evaluation. Course includes interactive web tools and meditations for living with purpose. Ask yourself the right questions and unveil answers that may surprise you. [
Learn More Now
]
Find Your Passion: Creativity and Your Life Purpose
By Melanie Votaw
"Creativity doesn't need to have a product, an opus, a song, a dance or a novel. The greatest creativity in the world is the recreation of yourself." ~ Jean Houston, author of
A Passion for the Possible
Spring is a great time for a creativity tune-up, which is not only fun but will open your imagination to the many possibilities you have in your life. The more you expand your imagination and listen to your creative impulses, the easier you will find
your life purpose
. The best way I know how to open to your innate creativity is to think in innovative ways. The most creative people in the world are those who stretch their minds to conceive of something new and different. They find original ways of twisting, altering, and expressing themselves.
Find Your Passion, Expression Your Passion
Creative expression is a great way to both discover and express
your passion
. As you get closer to your passion, you get closer to
your life purpose
.
Here is a favorite exercise for stretching your creative mind. It can be difficult at first because it requires you to think in a very new way, so be kind and patient with yourself.
1. Think of a sound that you love.
Hear it as vividly as you can in your mind. Now, think about how that sound would taste. Try not to think in literal terms. Here's an example: My favorite sound is from my childhood. There was a local auditorium where the sound of tap shoes sounded much like bird song. I imagine that this sound would taste like crisp, juicy apple slices.
2. Now, what might this sound look like?
Again, try not to think in literal terms. If I thought of mine literally, I might actually see birds. Try to stretch further and think of something more abstract. You might think about how music is sometimes interpreted in abstract pictures on your computer. To me, my favorite sound would look like sharp paint strokes in vivid colors - reds and pinks.
3. What might this sound smell like?
4. What might it feel like to the touch?
5. Next, choose a taste, and imagine what it might smell, feel, sound, and look like.
It's more difficult to make this one abstract, so this is a bit more advanced. For example, if you imagine the taste of lemons, can you imagine the smell, feel, and look to be something different from lemons themselves.
6. You can do this exercise with all of the senses.
There is no end to the ways you can play with it.
This is really fun if you just let your imagination run wild, and it will stretch you in ways you never dreamed. You may find yourself inspired to paint, make music, write or dance. And you may discover
how to fulfill your purpose
. If so, bravo!
Copyright © 2007 Melanie Votaw. All rights reserved. If you are interested in publishing this article, please email .