The Healing Power of Food: Conscious Eating
by Julianne Koritz, a registered, licensed dietitian. --
Learn how food can heal your body
by strengthening your immune system and increasing your energy level -- create a plan for boosting your immune system. Lessons address common health complaints and offer up remedies for issues such as Chronic Fatigue Syndrome, memory loss, joint pain, depression, anger, and weigh loss. Make food your best friend to energize, nourish and heal your body!
[
Course Overview
] [
Enroll Now
] [
Course Reviews
]
Use Free Diet Journals As A Guide to Better Health
By Julianne Koritz
Did you know your daily moods offer important clues as to missing nutrients in your diet?
While many factors may be influential into your feeling well - or not well, most people understand that food intake is a key component to a healthy body. The right balance of nutrients daily can boost the immune system enabling it to overcome illness, infection or disease. The right amount of protein, for example, can help eliminate late afternoon slumps. Tracking and analyzing your daily food intake (without judgment) using free diet journals, as well as, recording your daily feeling and moods (such as anger and irritability) can go a long way in helping you to feel well and energetic.
Once recorded and evaluated your daily food intake in a diet journal, it may surprise you to learn the actual nutrients you do or don't consume. Completing an anonymous diet journal (like the one below) daily for several weeks - coupled with the advance nutrition education (like that found in the course
The Healing Power of Food
) is an excellent way to evaluate your diet for nutrients, deficiencies and to create a plan for a healthier, more energized you.
Try It Out!
Complete the diet journal entry for today and press submit to email today's entry to your inbox for safekeeping. (
You might want to create a designated folder to keep all these entries in.
) Repeat this exercise daily for several weeks. Print out each journal entry and put in a three-ring notebook. Then be
guided to evaluate your diet
for nutrients through the lessons in
The Healing Power of Food
course.

Copyright © 2003 Julianne Koritz. All rights reserved. If you are interested in publishing this article, please email
.
About Julianne Koritz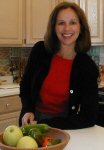 Julianne Koritz is a registered, licensed dietitian in private practice in Chapel Hill, N.C. She presents programs in low-fat cooking, diabetic and cardiac diets, weight management and nutrition. In her practice, she counsels corporate and private clients in developing personalized nutritional programs. As a clinical dietitian at the University of North Carolina, she helped athletes and students to reach their nutritional goals. She is a member of the American Dietetic Association. She developed the Self-Healing Expressions e-course
The Healing Power of Food: Conscious Eating
. Her web site is
nutritioncoach.usana.com
.
About Julianne's
Nutrition Information Course
Learn to support and boost your body's immune system using advance nutrition information through this
nutrition information email course
. Lessons address common health complaints and remedies for issues such as Chronic Fatigue Syndrome, memory loss, joint pain, depression, and weigh loss.
Learn behavior modification techniques for changing eating habits.
Understand the role of comfort foods, processed foods, and important foods.
Revisit and expand the old food pyramid that you learned about in school.
Rediscover the nutrients you need in your daily diet for optimal health.
Be guided to a new eating and exercise plan based on your body's shape - a plan that will provide lasting health for your mind, body and spirit for years to come.