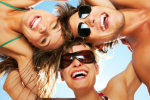 Laughter for the Healing Heart
. A laughter therapy course by Lynn Shaw, author and laugh therapist. If you are experiencing a health or emotional low, laughter exercises can be an adjunct to a healthy outlook. Discover how laughter can help reduce symptoms of allergies, abdominal pain and digestive problems -- to name a few. And help you manage anger and fear. For those dealing with physical or emotional distress, finding laughter in daily life can profoundly enhance healing and the quality of life! [
Learn more
]
Ha Ha Yoga: The Joys and Benefits of Laughter Yoga
By Lynn Shaw, Laughter Therapist
My introduction to laughter yoga and laughter clubs began over a decade ago when I began studying therapeutic laughter. As a licensed mental health professional, I was drawn to the concept of utilizing laughter, not humor, in a wellness and clinical setting. After immersing myself into the study and application of laughter as therapy, I was hooked. I was seeing the benefits of laughing with stress, laughing with pain, laughing energetically. And then my studies drew me into the path of
Steve Wilson
, Ph.D. and
Dr. Madan Kataria
from India who is credited as the founder of Laughter Yoga.
Dr. Kataria is an enterprising and innovative physician who had been researching the benefits of humor and laughter. After being inspired by his findings, he decided to field-test the impact of laughter by going to a local park in Bombay, India and convinced four people to start a laughter club with him. Within a few days, over 50 people were involved. Initially using jokes and humor to keep the laughter generated, the jokes ended after two weeks.
Dr. Kataria observed that it usually took one person laughing to get the others laughing so he began to eliminate jokes and stories and focused on laughing. His wife, Madhuri Kataria, a yoga teacher, suggested gentle breathing and other yoga exercises be included. The new formula worked and the laughter yoga technique became the mechanism for developing a laughter club in India and now around the world.
In this BBC Human Face Series, John Cleese goes to India and meets Dr. Madan Kataria, founder of Laughter Yoga.
Laughter Yoga does not rely upon your mind and easily helps you distance from fears, sadness, worries and self-defined limitations. The premise of Laughter Yoga is the philosophy that acting happiness and simulated laughter actually stimulates laughter. The findings seem to point towards connecting laughter to yoga is like synergetic breathing -- a blend of benefits from practicing Ho Ho Ha Ha Ha.
Ha Ha Yoga ~ Its time has come
Laughter yoga has even been
featured on Oprah
!
As you seek well-being and consider Laughter Yoga, know that the benefits of laughing continue to be supported by extensive research through mind/body connection work. I am amazed at the depth of understanding the past decade has brought to this fun, remarkable, and simple process. Laughing daily can provide community building experiences for you, your family, friends, and co-workers. Just start with
Ho Ho Ha Ha Ha
.
Copyright © 2007 – 2010 Lynn Shaw. All rights reserved.
Lynn Shaw, LCSW, CLL, is a life coach, speaker, author, and certified laughter leader. Founder of Energizing Life, Inc., her purpose is to energize others to create renewal for everyday vitality. Learn more about Lynn and her online laughter course
Laughter for the Healing Heart
now!
What gets you laughing?
Share your favorite laughter exercises or comments about this article with the rest of us!
total comment(s)