By Melanie Votaw ©
Author of
Discovering Your Life Purpose: Living the Life You Were Born to Live
It's hard to determine your life purpose if you don't recognize all of your accomplishments and talents. Many people disregard the areas in which they excel easily and naturally, but those areas may be exactly where their life purpose is "hiding out." After all, these are probably the talents and abilities they were born with.

People go forth to wonder at the height of mountains, the huge waves of the sea, the broad flow of the rivers, the extent of the ocean, the course of the stars—and forget to wonder at themselves. ~ St. Augustine

So, let's do some spring cleaning that involves "sweeping up" the hidden greatness that you may have forgotten or brushed off as unimportant. Everything you have done or can do has merit and could hold the secret to your life purpose.
For example, I'm good at helping people get to the heart of a difficult situation. I can talk them through it until they get past the wheat and the chaff and discover what's really bothering them.
One of my close friends has an amazing wit. He has displayed this most frequently on Facebook until I suggested another friend hire him to come up with clever business names.
Bear in mind that some of your talents and abilities may have more to do with who you are than what you do. Another friend of mine has a calming effect wherever she goes. She doesn't even have to "do" anything. She just walks into a room, and her energy calms everyone down.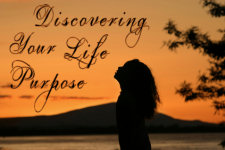 So, this week, take stock of your greatness by creating a list on your computer, iPad, Smartphone or a notepad. Write all talents, abilities, and accomplishments that you can remember—even going back to childhood. Keep adding to the list during the week. You could even ask a close friend or family member to share what they think you do well that you might not have noticed.
At the end of the week, review each item on your list, and ask yourself:
"How could I make a living with this talent?"
If no answer comes, don't worry. Just move on to the next one.
The purpose of this exercise is:
To help you realize there's more to you than meets the eye and that your judgments about yourself might have gotten in the way of recognizing all you can do well.
To open your mind to possibilities as to how you could make a living with forgotten talents. How can the woman who has a calming effect make a living with her talent? Well, she might have to get some sort of credential to become a social worker, minister, or therapist, but those are all professions in which "calm" is a tremendous asset.
What greatness in you have you forgotten?
© Melanie Votaw. All rights reserved.