Sorceress ~ Goddess Course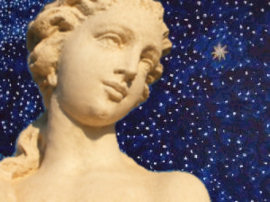 Discovering the Goddess: A Path to Healing, Spirituality and Joy
Discover the Goddess and how her wisdom and power can help heal, inspire and uplift you, your relationships and the world. In this 13 lesson healing journey, you will: Explore the history of the Goddess; Meet Her in many forms, and by many names; Practice healing rituals and exercises; Enter the sacred circle of her love and protection to meditate, and plan your life's dreams... [
Learn More
]
Evoking the Sorceress Within
By Rev. Laurie Sue Brockway
[Click image to hear Glinda]
Many fairytales and stories tell of a sorceress who helps a heroine to wholeness and grace.
Glinda, in The Wizard of Oz, is one of the world's favorites; she was the guiding light who sent Dorothy on her legendary search for the Wizard, only to help her find the power of the wizard was within her all along.
In the tradition of trusting that when the student is ready, the teacher appears, Glinda offers profound insight just at the moment Dorothy is ready for it. Glinda can also help you return to yourself when you feel down or disconnected. If you ever find yourself feeling really lost, remember her simple wisdom:
Tap your heals three times and say, There's no place like home, there's no place like home, there's no place like home. And remember home is within you. Have fun bringing her into your life.
1. Watch the Wizard of Oz
Observe Dorothy's full experience with Glinda, her magical mentor. They share just moments on the screen, yet Glinda is the gentle change agent who sets Dorothy on her path and helps liberate her from her troubles by showing her the power of transformation lives within her, and that home is where her heart is.
2. Get Red Shoes
You don't need ruby slippers, but beautiful, snazzy red shoes are symbolic of your innate ability to always find your way home to yourself. Be they pumps or sneakers, make them your magical trademark. A great pair of shoes always lifts the spirits; just looking down at your feet will make you happy. The color red symbolizes courage, good luck, and power and shows that you're ready for anything!
3. Blow Bubbles
Just like a kid, get some soapy bubbles in a bottle. Remember, Glinda used to arrive in a bubble to create her magic; imagine you can create magic too. Sit on your patio (courtyard, front lawn, or by an open window) and blow bubbles. As you watch them floating in the air, imagine they are carrying Glinda, who is there to grant your wishes. Let the excitement of her arrival well within you. Get in touch with what it feels like to be in the presence of a magical mentor who is there to help you. Let your heart open as you continue to blow bubbles, and call out your wishes. When you feel you have had your full, dedicate the last batch to Glinda and thank her for touching your life and helping you believe.
© Copyright by Laurie Sue Brockway. All rights reserved.
Rev. Laurie Sue Brockway is the author and creator of these popular Self Healing Expressions courses and Healing eBooks: