Holistic Expressions, A Self Healing Expressions Newsletter
Issue 133 - Seeding Your Healing Gardens

By Self Healing Expressions
"Any ordinary favor we do for someone or any compassionate reaching out may seem to be going nowhere at first, but may be planting a seed we can't see right now. Sometimes we need to just do the best we can and then trust in an unfolding we can't design or ordain."

~ Sharon Salzberg, O Magazine, The Power of Intention
As our little garden begins to yield lettuce, spinach, broccoli and herbs for our dinner table, Sandra Schubert reminds us to also Seed Your Creative Garden, One Word at a Time. This is also a great month to gather some herbs from your healing garden, so check out Lana Thomas' course, Creating Your Own Healing Herbal Blends with Confidence.
Some creative seeds we have been busy planting this spring at Self Healing Expressions include a new format for our news blurbs and articles. This will be the last ezine in this format for a while. Instead of a monthly newsletter with a group of articles, we are going to try sending several shorter emails each month, featuring one informative article and/or special offer. We're hoping this makes it easier for you to review and identify that which interests you (and that which does not). We will continue to provide a flavor of our courses in the form of lesson excerpts, audios, meditations, etc. And we will mix in news of coupons, discounts, and Things that Make You Go Ommm. Do let us know what you think once these mailings begin to arrive this month.
As usual, see what calls to you this week and be proactive in your health and healing. May you be greatly blessed!
Breathe,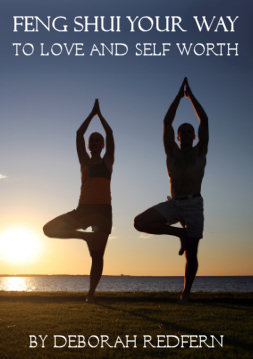 P.S.
If you find value in this ezine, please help us grow our list by forwarding it on. Please know we are grateful for this small act of kindness! For NEW subscribers joining us this month, we are offering this complimentary eBook
Feng Shui Your Way to Love and Self Worth
by Deborah Redfern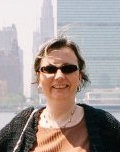 Seeding Your Creative Garden, One Word at a Time
Spring to me is the perfect time to make plans and set goals. The air begins to vibrate, as everything starts to wake up. The birds are a bit perkier and lunchtime is for walking outside and not just huddling in warm offices. The ground has thawed enough for planting to begin. What we plant now will blossom and bear fruit in the summer and the fall. It is also the time to seed our creative gardens.
My grandmother's garden took two forms. Her front lawn was well thought out, manicured and beautiful. A wayward dandelion knew not to rest in her grass. Flowers lined her house leading to...
Read on
.
©
Sandra Lee Schubert is the author and instructor of
Writing for Life: Creating a Story of Your Own
.








This Week's Self Healing Expression ~ Honoring Dad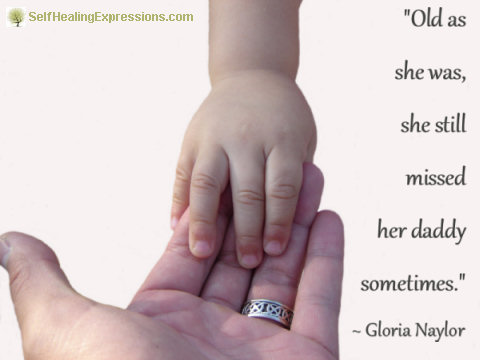 For those grieving the death of their precious Dad (or Mom or spouse or...) this month, Marty's compassionate grief course might provide support. Learn more.
Food for Thought...

"As a vegan, you personally save the lives of approximately 83 animals a year, reduce your carbon output by an average of 3,000 pounds, and conserve 1.4 million gallons of water a year."

~ Jolinda Hacket, The Everything Vegan Cookbook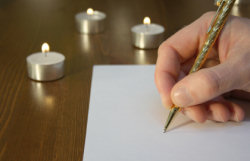 Guest Author:
Free-Form Writing to Release Negativity
By John-Roger, D.S.S., author of
Living the Spiritual Principles of Health and Well-Being
Free-form writing is an easy technique for vacuuming out those stubborn negative thoughts that lodge in your unconscious and subconscious. You can create these elements by repressing things, by obsessing, and by being "possessed" by such things as smoking, alcohol, and food. Doing free form writing is especially helpful for clearing away these kinds of negative influences and it can bring in a boost of energy as you let them go. Start slowly; you can begin doing just fifteen minutes, but work up to...
Read on
.








Featured Flash Show ~
Spring Cleaning to Make Room for Love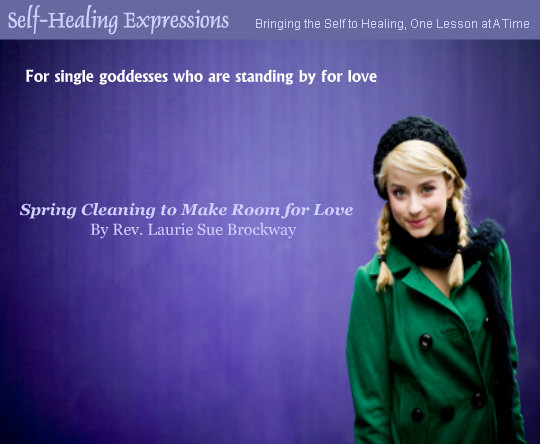 Attn: Spiritual Single!
Utilize the stir of springtime to clean house in your life and to tune-up for love!
View now
Also, check out
Find Your Spiritual Soul Mate: Create Your Romantic Resume
by Rev. Laurie Sue Brockway









Featured
Healing Courses
...
Featured
Healing eBooks
...
| | | |
| --- | --- | --- |
| | | Closing Thoughts |
"Each morning we are born again. What we do today is what matters most." ~ The Buddha
Today's Holistic Prayer
May the Warm Winds of Heaven
Blow softly upon your house.
May the Great Spirit
Bless all who enter there.
May your Moccasins
Make happy tracks
in many snows,
and may the Rainbow
Always touch your shoulder.
~ Cherokee Blessing
Peace, Love and Light,

Have a comment about this issue?
Share with the rest of us.








Disclaimer
About Self Healing Expressions