Bringing the self to healing, one lesson at a time.
Holistic Expressions, A Self Healing Expressions Newsletter
Issue 118 - April 2012 ~ Healing Possibilities for Spring

By Self Healing Expressions
Share
In this Issue
1)
What's Cookin'
~
Opening remarks by June Cook
2)
NEW! Crystals for Healing course
by Margaret Loris, Crystal Therapist
3)
Time to Plant Your Herb Garden! Creating Your Own Healing Herbal Blends
4)
Featured Flash Show! Spring Cleaning to Make Room for Well Being and Love
5)
The Yeast - Irritable Bowel Syndrome Connection
by Christine Fadley
6)
Comments from you
~
Thanks for writing in!
7)
Things That Make You Go Ommm...
~
Feng Shui Red Lotus Letter; Coupon offer!
8)
This Issue's Holistic Prayer
"There comes a time when all the cosmic tumblers have clicked into place and the universe opens itself up for a few seconds to show you what's possible."

~ Ray Kinsella (played by Kevin Costner) in the movie Field of Dreams
Ken and I visited Washington, DC during spring break this month. One of the highlights of our trip was seeing the gem stone exhibit at the Smithsonian Museum of Natural History. Having spent the previous month developing our Crystals for Healing course with Crystal Therapist Margaret Loris, it was exciting to see really large pieces of quartz Crystals for Healing (find our DC photos here). Margaret's lessons instruct us on the vibrational and healing power of crystals. After she guides us on the care of our crystals, she enlightens us on which stones to use for balancing and opening a weak or closed chakra. As the chakras are rebalanced and opened, the body has a clear channel for healing.

Ken and I also began to plant our vegetable and herb garden this month, which prompts me to mention our fascinating Herbs for Healing course by herbalist Lana Thomas. As usual, see which article or offering below calls to you this season.


| | | |
| --- | --- | --- |
| Breathe, | | (mouse-over thumbnail images for full size) |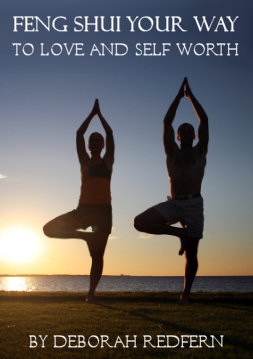 P.S.
If you find value in this ezine, please help us grow our list by forwarding it on. Please know we are grateful for this small act of kindness! For NEW subscribers joining us this month, we are offering
Feng Shui Your Way to Love
by Deborah Redfern
.









Crystals for Healing Course
Crystals for Healing: Crystal Therapy in Multi Dimensions by Margaret Loris

Crystals support healing in that negative energy that has manifested into emotional, mental, spiritual or physical distress or illness may be released and transmuted. Then deep and profound healing may occur. This crystal therapy course focuses on the why, when, where, what, and how of crystals for healing. Crystals contain a unique vibration and radiate specific healing properties which may be used to amplify spiritual energies. This online crystals course guides you in understanding and embracing those unique vibrations and properties for healing.

After learning to select, cleanse, charge and program seven crystals, there is an excellent review of major and some minor chakras. In subsequent lessons, a healing crystal (or stone) is connected to each chakra. The healing properties of various stones are revealed, as are ways a given crystal or stone may assist in healing one physically, emotionally, mentally and/or spiritually. This course culminates with a lesson about crystal layouts (i.e., where and how to lay various stones on the body for a healing session). Learn more now!








| | | |
| --- | --- | --- |
| | | Time to Plant your Garden! |
Creating Your Own Healing Herbal Blends with Confidence

If you give the body what it needs, it will heal itself. By challenging diseases in bodily systems or organs with specifically related whole herbal blends, you assist the body's natural ability to fight off disease while simultaneously building the immune system itself. That is the beauty of the healing intricacies of herbs; if you give the body what it needs, it will heal itself. Learn more.

Lana J. Thomas is the creator and instructor of our herbs for healing course.








| | | |
| --- | --- | --- |
| | | Featured Flash Show! |
Spring Cleaning to Make Room for Love

Be inspired to spring clean with this uplifting flash show by Rev. Laurie Sue Brockway and SelfHealingExpressions.com. A fun reminder of the importance of cleaning house for life, love, and well-being! View here.
Author Rev. Laurie Sue Brockway is creator and instructor of these eCourses and eBooks:
















About Marty's Grief course
...
"This course has validated much of what I've been feeling - allowing me to accept my feelings as normal and productive. Although I have more than a few supportive people in my life, none of them understand how losing my daughter has changed my life so completely. This course is helping me by addressing the issues I'm facing." ~ Ellen Forrest, Canada
About Shaman Maggie's Reiki 1 course
...
"Life changing. Thank you for [making] so much information and links available to us. I took Reiki I online with a different provider and there is no comparison! This course is far greater." ~ Claudia B., Massage Therapist, New Hampshire
About SelfHealingExpressions.com...
"When I found Self-Healing Expressions I was inclined to think that the prices would be high like many of the online healing sites out there. What I have come to realize was that the staff and teachers are here to bring a new understanding to all of us. They are not here for the money but to help guide us along a spiritual path. This site is changing my life and as I progress I believe new discoveries about myself will open up. Many Blessings" ~ Michael Stelmach, CT








| | | |
| --- | --- | --- |
| | | Closing Thoughts |
As usual, you are encouraged to adapt prayers shared here to honor your religious tradition or spiritual practice.
This Month's Holistic Prayers
Brigid,
You are a woman of peace.
You bring harmony where there is conflict.
You bring light to the darkness.
You bring hope to the downcast.
May the mantle of your peace cover those who are troubled and anxious,
And may peace be firmly rooted in our hearts and in our world.
Inspire us to act justly and to reverence all God/dess has made.
Brighid, you are a voice for the wounded and the
Strengthen what is weak within
Calm us into a quietness that heals and listens.
May we grow each day into greater wholeness in mind, body, and spirit.
Amen and Blessed Be.
Adapted from a Prayer to St. Brigid
Solas Bhríde, Kildare, 1997
Peace, Love and Light,

Have a comment about this issue?
Share with the rest of us.
total comment(s)








Disclaimer
About Self Healing Expressions