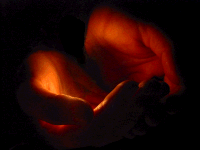 Reiki for Healing: Level I
Reiki for Healing: Level II
You are invited to embrace a remarkable gift of healing, the ability to heal with your hands. The Usui system of Reiki is one of the easiest natural healing systems known today. Learn what Reiki is about and how it works. Receive your Reiki Attunement to permanently open this channel in your life.
Reiki for Self-Healing: Review Front Body Hand Positions (5-9)
By Maggie Wahls, Reiki Master Teacher (RMT)
If you have studied Reiki and have been attuned by a Reiki Master Teacher, enjoy this is review of the front body hand positions for self healing and self treatment.
Self-Healing Expressions Reiki students
can refer to their Printable Reiki Hand Positions Guide for the rest of the hand positions and detailed descriptions.
Reiki is an energy healing therapy and a wonderful healing experience. A Reiki treatment brings physical, emotional, mental and spiritual balance to the person receiving the healing. It is both relaxing and uplifting at the same time.
Review for Reiki I Practitioners
Hold each position for 3 to 5 minutes. Remember the Reiki energy is smart for it knows where to go and what to do. This slide show will advance every three minutes - or you may advance it sooner, if you like - by pressing the "Next" button.
Reiki Slide Show
Reiki Hand Positions 5 - 9 for Self-Treatment
If you have
not
been
attuned
, you are invited to enroll in this
Reiki for Healing: Level I
course by Reiki Master Teacher Maggie Wahls. Reiki Master Teacher Maggie Wahls is skilled at performing
distance Reiki Attunements
. If you have already taken
Reiki for Healing: Level I
and have been attuned AND you feel ready to continue onto
Reiki for Healing: Level II
, you are invited to continue your Reiki study.
Copyright © 2008 Maggie Jean Wahls. All rights reserved.
* * * * * * * * * * *
Share your thoughts about this article
total comment(s)