Think about the times God has whispered his/her messages to you through a flower, a child, a small act of kindness by a stranger, a forwarded email or a penny on the pavement.
Two news stories struck me recently. One was of a woman, a Christian aid worker, arrested in Afghanistan just prior to September 11, 2001 while the Taliban was still in power. They arrested her and others for showing a video on Christianity. Her captors reviewed the evidence (the video) in a car prior to her arrest. Now free, she marvels that God had found a way to convey his message to her captors.
The other news story concerned a passage that singer, Barbra Streisand read at her recent concert. She mistakenly said the passage was by William Shakespeare. It read:
"Beware the leader who bangs the drums of war in order to whip the citizenry into a patriotic fervor, for patriotism is indeed a double-edged sword. It both emboldens the blood, just as it narrows the mind. And when the drums of war have reached a fever pitch and the blood boils with hate and the mind has closed, the leader will have no need in seizing the rights of the citizenry. Rather, the citizenry, infused with fear and blinded by patriotism, will offer up all of their rights unto the leader and gladly so. How do I know? For this is what I have done. And I am Caesar."
The TV news reporters gleefully reported that this was not a Shakespeare quote at all but authored by an Internet prankster. But what struck me was that it is a wonderful warning of the consequences of war - regardless of the author. And due to the incorrect attribution for the quote, several mainstream news programs read it as part of their news stories. They conveyed this warning far beyond her concert going audience.
Consider if you are recognizing the messages of God/Goddess and heeding his/her warnings. Itís disheartening that American leaders view war as the best solution to the conflicts of the Middle East. Furthermore, the news media fuels the fire for war with almost exclusive coverage about it while so many stories of suffering, hunger and poverty go unheard. Itís as if they want a war because itís a ďgood storyĒ and are less concerned about the consequences of engaging in one.
Peace Pilgrim, who walked the United States in the name of peace between 1953 and 1981 once said, "When you hear of any predictions of disaster there's a reason for it. The reason is that you are to throw the entire weight of your positive thought in the opposite direction."
In this spirit, Iíd like to suggest we let all those negative news reports serve as a pointer of where we need to direct light, love and peaceful intentions. Additionally, consider joining thousands of others in various time zones daily for a 5-minute noontime prayer vigil for global peace. And finally, look for Godís messages in your day-to-day life, share them with each other and act on them! Hear how God speaks to you.
~~~~~~~~~~~~~~~~~~~~~~~~~~~~~~~~~~~~~~~~~~~~~~~~~~~~~~~~~~~~~~~~~~~~~
~~~~~~~~~~~~~~~~~~~~~~~~~~~~~~~~~~~~~~~~~~~~~~~~~~~~~~~~~~~~~~~~~~~~~
About the Instructor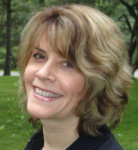 June Soyka Cook is the founder of Self-Healing Expressions and author of
Holistic Prayer: Healing the Mind, Body and Spirit through Prayer
Ė a free email course. Her site provides free and nominally priced self-paced
email courses
on holistic and personal growth topics. Course topics include Romantic Resume, Grief Healing, Pet Loss, Nutrition, Laugh Therapy, Healing the Earth, Wisdom of Thoreau, and Personal Power. For more information, visit
www.selfhealingexpressions.com
.