How to Radiate Positive Energy ~ Spiritual Courses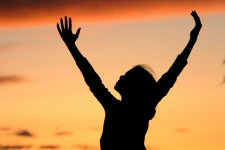 Discovering Your Life Purpose: Living the Life You Were Born to Live
Is your life filled with purpose? Every single one of us has a reason for being here on the planet right now, and every one of us has a unique contribution that no one else can make. It's the reason you were born. Are you living the life you were born to live? This inspiring course takes you on a journey of exploration and evaluation. Ask yourself the right questions and unveil answers that may surprise you. [
Learn More Now
]
Living with Purpose: Sending and Receiving Positive Energy
By Melanie Votaw
Every day, the news is disturbing. Escalating violence between Israel and Lebanon, wildfires in California, bombs are going off in Iraq, genocide continues in Darfur, etc., etc. How can we maintain any kind of spiritual equilibrium in the midst of what appears to be chaos? It's difficult - I won't pretend otherwise.
So, what can we do?
We can use the
power of prayer
and send loving energy to these troubled areas. I call on everyone to take a moment each morning and evening
this week
to pray or send healing energy to Iraq, Afghanistan, Israel, Lebanon, Palestine, Darfur, California - or wherever else your heart is called. Of course, if you can't do so this week, choose another time. But the power of a group of souls sending energy during the same week is significant. PLEASE FEEL FREE TO FORWARD THIS TO OTHERS WHO MIGHT WANT TO PARTICIPATE. Think in terms of easing the burden of just one soul for one moment in each of these places. Think about softening the heart of someone who is torturing others. Think about offering a spark of hope to someone living in a desperate situation. Then, trust that what you have done has had some impact, even if you never see it.
The energy that you send to the other side of the world will also benefit you. Whenever you send love, you also receive it. As you send peace, you will feel peace.
Now that you have practiced sending energy, practice receiving it.
Think of something you have wanted to accomplish that has been difficult for you to achieve. Sit quietly and tune in to all of the people in the world who have already accomplished this. Draw their energy into you. Feel the energy of success.
Example & Exercise
Let's say you want to write a successful screenplay. Connect your energy with everyone who has ever written a successful screenplay - by simply closing your eyes and imagining that you are connecting with them. Imagine yourself drawing the energy of these people to you. They know what it's like to accomplish what you want to accomplish. To them, it's not an unknown. To them, it's not something that feels out of reach. How does it feel to know that you, too, can accomplish this? Can you allow yourself to touch feelings from your probable future?
Now, try the same exercise by connecting with people who are living
the life purpose you envision for yourself
. Do this exercise even if you aren't sure
what your life purpose is
. (It might just help you to figure that out!)
Consider...
What do these people feel like?
What is it like to be these people?
What can you learn from them?
Draw their energy to you. How do you feel now?
Note: You're not taking energy from them; you're simply multiplying this positive energy.
This is a great exercise to do when you're feeling down or stuck in negativity, and it's a great exercise to do with a partner!
Copyright © 2006 Melanie Votaw. All rights reserved. If you are interested in publishing this article, please email
.
~~~~~~~~~~~~~~~~~~~~~~~~~~~~~~~~~~~~~~~~~~~~~~~~~~~~~~~~~~~~~~~
Know someone who might enjoy this article? Use our forwarding feature to send it to them! ~~~~~~~~~~~~~~~~~~~~~~~~~~~~~~~~~~~~~~~~~~~~~~~~~~~~~~~~~~~~~~~