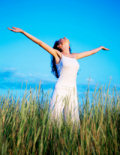 Dancing with Energy: 9 Steps to Manifesting Your Soul's Desires with Feng Shui
By Deborah Redfern, creator of
Healing with Feng Shui and Color
This Feng Shui course guides you on a journey to consciously create an environment that attracts more of what you want in life—with ease. Learn to interweave feng shui with the "
Law of Attraction
" theory to create a powerful tool for manifestation. The bagua map is an energetic grid consisting of nine templates for life. Activate the nine areas of the energy grid in your home and see what you begin to manifest in your life. Learn the symbols, images, tools, rituals, mindset, and meditations to do this.
The Five Feng Shui Elements and the Wizard of Oz
by Deborah Redfern
In
Feng Shui
the Five Elements are used to bring a balance in our lives. Usually this means having a balance of all five elements of Fire, Water, Metal, Wood and Earth in our living spaces. But first, let's understand the Five
Feng Shui Elements
. L. Frank Baum's story
The Wizard Oz
illustrates this delightfully! In this tale, you can see balanced and imbalanced examples of the five elements.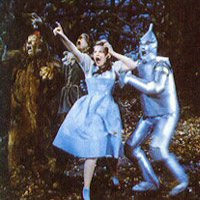 The Cast
Fire: The Wizard
Water: The Cowardly Lion
Metal: The Tin Man
Wood: The Scarecrow
Earth: Dorothy
Fire is about taking action.
The Wizard is not in balance when we first encounter him. He portrays himself as a fire ball, but he is all talk and no action. When he is revealed as a fake, he steps up to the plate as a real leader and initiator and in so doing, he finds a new sense of direction and purpose for his life.
Water is about emotions.
The Cowardly Lion is a very fearful and sensitive creature who cries at the drop of a hat. The Wizard gives the Lion a medal for bravery and the Lion finds his courage. While keeping his sensitive nature he is much more composed emotionally after he gets his medal for bravery.
Metal is about rational thought, organization and intellectual powers.
In an imbalanced state, someone who has too much metal energy (as the Tin man believes) lacks compassion and depth of emotion: he is rigid and has no heart. At the end of the story, The Wizard gives him a heart, and a testimonial which increases his capacity to both give and receive love.
Wood is about growth, flexibility and productivity.
In the beginning the Scarecrow is so flexible he can hardly stand up. He also believes he has no brains, and judging by what happens when he loses his straw stuffing, we see that he does indeed lack substance. The Wizard gives him a diploma and as soon as he believes in himself, he grows substantially and becomes 'smart.'
Earth is nurturing and supportive.
Dorothy's story is about feeling un-nurtured and taken for granted. In her inner journey and interactions with the other characters/elements she learns how to nurture others and through this, recognizes something of her own value, hence the famous line "there's no place like home." She comes to rely much more on her inner resources to give her stability and value.
Copyright © 2007 – 2010 by Deborah Redfern. All rights reserved.
Deborah Redfern, author of
Odyssey of the Heart, Paths to Wholeness through Feng Shui
, guides learners in feng shui study. She is the creator and instructor of these feng shui courses:
Healing with Feng Shui and Color
Dancing with Energy: 9 Steps to Manifesting Your Soul's Desires with Feng Shui
total comment(s)