Life Purpose Online Course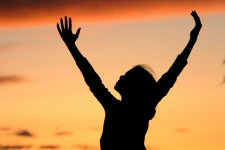 Discovering Your Life Purpose: Living the Life You Were Born to Live
Is your life filled with purpose? Every single one of us has a reason for being here on the planet right now, and every one of us has a unique contribution that no one else can make. It's the reason you were born. Are you living the life you were born to live? This inspiring course takes you on a journey of exploration and evaluation. Ask yourself the right questions and unveil answers that may surprise you. [
Learn More Now
]
Living with Purpose: Creativity and Your Essence
By Melanie Votaw
My mother passed away in January, and I've discovered that one of the things losing a loved one will do is connect you once again with your own essence. You are brought back to who you are on a core level, no longer able to keep up the pretenses and denials of day to day living. This is a good thing. Most of us spend entirely too much time living someone else's life, adhering to conventions and beliefs about who we're "supposed" to be rather than who we truly are. In fact, this conditioning is so ingrained in our culture that we have to
"find" ourselves
when we reach adulthood. So, when do you "lose" yourself?
In childhood, you emulate your parents, and you know that being acceptable is necessary for your very survival. You know you can't make it without adults, and, like all children, you do whatever it takes to make sure someone continues to take care of you. The price you pay for this security is your essence - or what I call the "essential you." Getting back to this essential you isn't always easy. The learned behavior becomes as habitual as any addiction.
But I have found that creative expression is one of the best doorways to discovering your essential you. Find ways to express yourself without judgment, without requirement. Slap paint on a canvas with abandon,
write
a bad poem (or a good one) - anything that allows you to be you without encumbrances. Give yourself permission to create whatever you want without asking yourself if it's good. Creating something good isn't the goal. Creating something that's "you" and that's fun is the goal. Know that
your essential you
is closely connected to your soul, and you are absolutely unique. There will never be another you - ever.
Copyright © 2006 Melanie Votaw. All rights reserved. If you are interested in publishing this article, please email
.