Lord's Prayer ~ Aramaic to English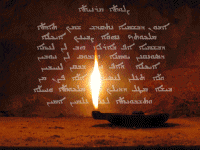 A Healing Journey with the Aramaic Lord's Prayer: Reclaiming the Mysticism of Jesus through His Native Language

by Neil Douglas-Klotz and Elizabeth A. Reed

This 20-lesson online course, guides you on a journey of healing with the Aramaic Lord's Prayer. Return to this ancient prayer and to Jesus' original language and original style of prayer. Become a channel of Divine love, joy, delight, healing, and peace by embracing the prayer of Jesus, as if for the first time. See what new meanings await your life!



Wisdom: Understanding and Food for Present Moment
By Elizabeth Reed with Neil Douglas-Klotz

The fifth line of the Lord's Prayer, "Give us this day our daily bread," reminds us how outer connections give sustenance to life: The earth gives to us of her very body so that our lives can be fed physical food. Our relationships with others give to us on many levels so that our lives are nurtured and fed mentally, emotionally and through experiences that bring us to Wisdom herself.


| | |
| --- | --- |
| Hawvlan lachma d'sunqanan yaomana | |
In Aramaic, the fifth line reads: "Hawvlan lachma d'sunqanan yaomana." The word "lachma" is rich in meanings. It points to whatever gives sustenance to all realms of life, not simply the physical body.

Bread for All Levels of Life
Since the categories of body, mind, emotions, and spirit were not a part of the Aramaic world-view (all were seen as one whole), sustenance for life meant sustenance for all aspects of being. "Lachma" can point to the literal food substance of "bread" and also points to "wisdom" and "understanding."

Some other words in this line are:

Sunqanan ~ "needs" and also "illuminated measure" or "a circle of possession" or "a nest." d'sunqanan also indicates that which is sufficient for our needs now, without hoarding.

Hawvlan ~ "gives" or "humanly generate" or "produce with life and soul."

Just Enough and Nothing More
Given that the meanings point to that which is sufficient for our needs now, without hoarding, it is an important reminder to us that we do not have to stockpile things in life. Our Western lifestyle supports garnering more than we need. Media encourages massive consumption through advertisements and marketing designed to instill a desire for the next latest and greatest -- from designer apparel to technological widgets. Thus, many people now own three or four TVs, computers, cameras, kitchen appliances, faddish designer clothing, jewelry and accessories, etc.

Moreover, we have overrun our landfills with outdated or unwanted goods in our consumer-driven and throw-way culture. This line of the prayer gently reminds us that the earth gives us what we need each moment. Sustainable and satisfying are central ideas for us (Westerners) to understand.




"Simple Presence is the food of understanding, giving life to all."
~ Neil Douglas-Klotz



During the coming days, focus upon releasing everything that does not further your unique purpose, that does not further you becoming fully the "I am" that is you. You are discovering your own unique note, your unique vibration, or your unique melody line in harmony with the Universal Symphony.

As part of the sacred cycle of life, we present ourselves anew each day as "fresh food" to the cosmos itself. We create and contribute --- we implode at times and compost ourselves at others. We are part of the great cycle of renewal as the Cosmos is constantly renewing itself through us.









Copyright © 2005 – 2008 Elizabeth A. Reed & Neil Douglas-Klotz. All rights reserved.




What will you focus on releasing this season that does not further your higher purpose? State your intentions now and energetically empower your intention by sharing it with the rest of us.



total comment(s)