Are You Facing The Loss Of A Beloved Pet?
Explore both the myths and the realities surrounding the experience of pet loss, including why it hurts so much and how it differs from other losses in this Self-Healing Expressions email course.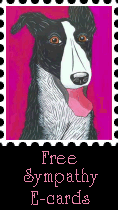 Online Pet Loss Support




A Different Grief: Helping You and Your Children with Pet Loss

by Marty Tousley, CNS-BC, FT

The lessons in this 24 lesson course are designed both to help you and your family understand and cope with the grief of losing a beloved family member—

your pet

. Lessons explain how children of different ages may react to the loss of a beloved family pet, and how they differ from adults in expressing grief. Find useful suggestions to help you talk with children about the sensitive topics of death and euthanasia. Each lesson is delivered to your email inbox on the start date and at the frequency of your choosing. Lessons contain suggested resources such as, online articles, web tools, discussion forum, books and meaningful ways to memorialize your faithful friend.






Tell Me Where It Hurts: A Day of Humor, Healing and Hope in My Life as an Animal Surgeon

Book Review by Marty Tousley, Bereavement Counselor

Presented as a single, very busy day in the life of a dedicated, sensitive, highly skilled and very funny veterinarian, this delightful book takes us inside the examining, treatment, operating and recovery rooms of Boston's Angell Animal Medical Center. Nick Trout is every animal lover's dream: an experienced and highly skilled staff surgeon who understands and accepts pet parents as graciously as the animals he treats, and who honors and celebrates the human-animal bond. With wit, wisdom, empathy and compassion, he shares stories spanning his 25 years as an animal surgeon. His work requires the skills of a doctor, a lawyer, a teacher, a coach, a nutritionist, a therapist, an esthetician and a grief counselor, to name but a few. I wish I could have read this book at an earlier point in my own career — I may well have chosen a different career path for myself. As Publisher's Weekly observes, "This is a perfect gift for anyone considering becoming a veterinarian."




Copyright © 2008 by Martha M. Tousley. All rights reserved.





Nick Trout: Animal Medicine from a Vet's-Eye View

Nick Trout is a surgeon at Angell Animal Medical Center, in Boston.

Fresh Air from WHYY, March 20, 2008 ·

Veterinarian Nick Trout joins Fresh Air to talk about his new memoir,

Tell Me Where It Hurts: A Day of Humor, Healing and Hope in My Life as an Animal Surgeon

.



Share your thoughts and comments with the rest of us!
What makes your vet special?