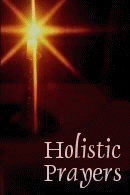 Holistic Prayers: Healing the Mind, Body & Spirit through Prayer
This 32-lesson prayer study course seeks to guide and support inward journeys leading to inner peace and healing using interfaith prayers, poetry and inspiring quotes.
Begin this inward journey now! Have each lesson of this course delivered to your email inbox on the start date and at the frequency of your choosing.
[
Learn more
] [
Enroll Now
] [
Course Reviews
]