Learn Reiki ~ Reiki Audio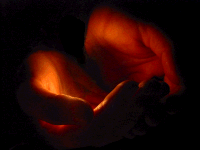 Reiki for Healing: Level I
You are invited to embrace a remarkable gift of healing, the ability to heal with your hands. The Usui system of Reiki is one of the easiest natural healing systems known today. Learn what Reiki is about and how it works. Receive your Reiki Attunement to permanently open this channel in your life. [
Learn More
]
Finding the Chi
Enjoy this Reiki audio visualization meditation. Feel your connection to the Chi.
Real player required. You can download it here. It's free.
Listen to the Reiki Audio visualization/meditation by Maggie Wahls, RMT.
Right-click here to download it.

~*~ Prayer of the Chalice ~*~

Divine Source, to Thee I raise my whole being,
a vessel emptied of self. Accept Lord,
this my emptiness, and so fill me
with Thyself-- Thy Light, Thy Love,
Thy Life-- that these precious gifts
may radiate through me and over-
flow the chalice of my heart
into the hearts of all with
whom I come in contact this
day, revealing unto them
the beauty of
Thy Joy
and
Wholeness
and
the
Serenity
of Thy Peace
which nothing can destroy


Maggie Wahls is the creator and instructor for the courses
Reiki for Healing: Level I
. and
Reiki for Healing: Level II
Learn more about Maggie and this course now.
Copyright © 2005 Maggie Jean Wahls. All rights reserved.