Sense of Wonder ~ Finding Life Purpose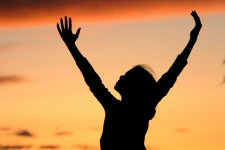 Discovering Your Life Purpose: Living the Life You Were Born to Live
Is your life filled with purpose? Every single one of us has a reason for being here on the planet right now, and every one of us has a unique contribution that no one else can make. It's the reason you were born. Are you living the life you were born to live? This inspiring course takes you on a journey of exploration and evaluation. Ask yourself the right questions and unveil answers that may surprise you. [
Learn More Now
]
LIVING WITH PURPOSE: Embracing A Sense Of Wonder
By Melanie Votaw
Einstein said that his sense of God was his sense of wonder. The majesty of mountains, the unbelievable diversity of animal and plant life, the power of a waterfall, the expanse of a desert, the endless mysteries under the sea, the puzzles of the heavens ... these are all representations of something that is greater than ourselves but absolutely palpable. Divine presence seems to be in all of these things.
Connecting with this sense of wonder is, for me, a salve in the face of all of the pain in the world - the hurricanes, the terrorist attacks, the wars, and the genocides. I suggest taking some time to discover what brings you a feeling of wonder and awe. What inspires you to shake your head in disbelief at the pure magic of it? It may not be something as grand as Mount Everest. It could be as simple as a baby's laughter or the flutter of wings or the sound of raindrops against a windowsill. Connect with your sense of wonder, and you will no doubt find yourself feeling better, more alive, and more in touch with yourself and the
purpose of your life
.
Close your eyes and remember the times in your life when you've had that feeling. What evoked it? Can you re-experience it now? And then, give yourself the gift of experiencing your Self as wonder-ful. You are a unique, one-of-a-kind individual who was created from something microscopic - WOW! No one else has ever or will ever be you. You are part of this awe-inspiring universe, and no matter how small you are, the world would be absolutely different without you. If you are a drop in the water,
what ripples do you want to send out into the world
? What effect do you want to have on others? What do you want to alter in the world? What do you want to give? Trust it and let it fly!
Copyright © 2005 Melanie Votaw. All rights reserved. If you are interested in publishing this article, please email
.