Spirit World ~ Online Courses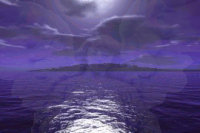 Journey to the Heart: Exploring the World of Spirit
Do you often have the feeling that an unseen presence is guiding you and influencing your thoughts or actions? Have you ever looked up from a task and for an instant you thought you saw a flesh-and-blood apparition of a departed loved one? If so, then welcome to the wonderful world of Spirit. Set out on a journey to gain new thinking about your personal power and spiritual understandings.
[
Learn more
] [
Enroll Now
] [
Course Reviews
]
"Every beauty which is seen here below by persons of perception resembles more than anything else that celestial source from which we all come." ~ Michelangelo
The Meaning of the New Year 2006: Self Expression
By Linda Pendleton
When I awoke and opened my eyes and glanced toward the window, I saw it was cloudy and threatening more rain, and I pulled the covers closer around my shoulders, planning to sleep more, but soon realized that spirit had a message for me. It was Thursday morning, this December 29th. My wise and witty
spirit guide
, Dr. Peebles gave me a happy New Year greeting and said the New Year 2006 would be about SELF. His early morning greeting gave me a smile and I communicated to him that I would be in touch later to learn more about his meaning of "self."
Throughout the morning I was curious as to what he might mean that the theme of the new year was going to be about self. Although one might think it meant being selfish or self-centered, I know him well enough to know his explanation would be much broader than what it first appeared.
I thought about several of the past New Years, such as the fear that was generated prior to the new millennium. How many months did we hear about Y2K and all the apocalyptic dangers associated with it? We were warned from all directions, to stockpile food, water, money...and who knows what else, as the days moved closer to midnight December 31, 1999. And when the clock moved forward into the new century many of us gave a sigh of relief when it was realized that everything was just fine, after all.
Then we had the New Year approaching after the horrific tragedy of September 11th. Again there was fear of another terrorist attack, and there was tension throughout our country, a tension we had been living with for three months, and as it has turned out, a tension we have endured for much longer. And then the war.
As 2004 was coming to an end, on December 26th, the devastating earthquake and tsunami hit. The destruction and numbers of deaths is still incomprehensible.
And 2005 brought more natural disasters, hurricanes - Katrina, Rita, and others, devastating earthquakes, and tornadoes. And again fear, grief, and tensions.
If we learned nothing else, we have learned we are vulnerable. But doesn't it seem we have lived an illusion to have thought otherwise? Hopefully, we have also learned out of tragedy comes goodness. Heroes have walked the same pathway as the victims of the various tragedies, many being victims, themselves. We've seen it over and over again, people coming together, often not even considering their own personal safety or well-being, to do wonderful things to save others, to support others, give of their time, their resources, and even their life.
The Third Principle of
Dr. Peebles' spiritual teaching
is, "Self Responsibility, for you are the eternal creator, never the victim." With that important Principle put to use in our daily lives, we come to understand how our actions and reactions affect our personal life and, in turn, the lives of those around us. Yes, we
experience grief
and sadness over horrific events and loss of lives. That is a natural reaction, even if the loss of life is thousands of miles away, a stranger whose name we shall never know, families who have loved each other in the same ways we love our families. Strangers, yet, our brothers and sisters in this game called life.
We have seen, most of us from a distance, the incredible strength and fortitude of people, and how in the face of horrendous tragedy and hardship they have stood up, moved forward, like the Phoenix raising up out of the ashes.
Have we been living with too much unnecessary fear and stress in our lives? What have we done with negative energy created by fear and worry? Have we used our creative energy to turn the negative into a positive in any way we can-even in small ways?
By evening, I was clear as to what Dr. Peebles meant by the new year is about SELF: Self Expression Lessens Fear. Self expression: going to the place of creativity within our self; to create positive energy; to live with intention; to wipe away the negative and replace it with the positive; to recognize our thoughts are things and have energy; to appreciate the beauty of life; to share our love with others.
The common New Year's greeting is "Have a peaceful and healthy New Year." If we are hanging onto fear, worry, stress and tensions, we cannot truly achieve peace and good health, can we?
Fear is disabling, paralyzing, depressive, and keeps us from being our best. I believe by eliminating fear and stress from our lives and redirecting our energy as Dr. Peebles' New Year's theme of SELF suggests, the new year can be one of inspiration, creativity, new adventures, and abundance. Peace begins within. When we have personal peace in our life, that good energy touches others around us, and even beyond as the energy goes out into the universe.
Dr. Peebles often says, "Lighten up, for life is a joy."
Make your new year of 2006 a celebration of self. That's what I'm going to do.
Copyright © 2006 Linda Pendleton. All rights reserved.