Spiritual Movies ~ Spiritual Cinema Discussion
Healing Whispers: Communication with Your Spirit Guides and Angels
by Linda Pendleton
Within this course, you are invited to explore ways you may use your innate intuitive gift to communicate with your spirit guides, angels, and deceased loved ones. You may be delighted to discover how easily you can cross the spiritual bridge between worlds and enrich your life with love, guidance, healing, and wisdom. Intuition is a Divine gift, and communication with your spirit guides and angels may be enhanced by "fine-tuning" your psychic intuition. It can serve as a guiding force in your daily life.
[
Learn more
]
"You've been given a gift, George: A chance to see what the world would be like without you." ~ Clarence (George's Angel) in "It's a Wonderful Life" (1946)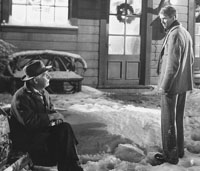 Jimmy Stewart & Henry Travers in "It's A Wonderful Life" © RKO Pictures /20th Century Fox
Spiritual Movies: Inspirational Movies to Breathe in Spirit
By Linda Pendleton
As long as movies have been made, the theme of
angels, guides, ghosts or spirits
has been woven into story lines. Who hasn't seen
It's a Wonderful Life
again and again? - And
still
cries at each viewing? Such movies can serve to inspire, define, and expand the possibilities for a generation. When
Spirit
is portrayed as being accessible to the average person and supports them through some difficult time or challenge, who isn't inspired to
believe
?
Inspiration ~ To Breathe in Spirit
The word inspiration, derived from the Latin definition, is "in-spirare -- to breathe in, to breathe in spirit." So, in essence, to be inspired is to "breathe in spirit". Artists often believe their inspiration comes from beyond - from the Muses. I have spoken with many artists and writers who often have had no idea where portions of their work have come from. Even though they may be typing the words, or holding the paint brush, they often are surprised by the words that end up on the page or by the brush strokes upon the canvas. They oftentimes joke and laugh about it but may know that their artistic expression came from elsewhere.
Movies too are a form of artistic expressions open to
inspiration
- so it makes sense that Spirit would make its presence known through this popular medium every now and then.
On this page, find a list of spiritual movies which fall into various categories including: inspirational, love stories, and comedies. My personal favorite spiritual movies are:
It's a Wonderful Life (1946)
,
Ghost
,
Michael
,
The Sixth Sense
,
Wings of Desire
and the remake -
City of Angels
,
Field of Dreams
, and the classic
Topper (1937)
movies. What are your favorite spiritual movies and favorite spiritual movie quotes? You are invited and encouraged to share and discuss.
Favorite Movie Quotes
Sam: I love you Molly. I always have.
Molly: Ditto.
From Ghost
~*~*~*~*~*~
Shoeless Joe Jackson: Is this heaven?
Ray Kinsella: No, it's Iowa.

The Voice: If you build it, he will come.
From Field of Dreams
~*~*~*~*~*~
Michael: Remember what John and Paul said.
Frank Quinlan: The apostles?
Michael: No, the Beatles. All you need is love.
From Michael
~*~*~*~*~*~
Lucy Muir (to the ghost of Captain Gregg): You'll forgive me if I take a minute to get accustomed to you.
From The Ghost and Mrs. Muir
~*~*~*~*~*~
Clarence: There must be an easier way for me to get my wings.
From It's a Wonderful Life
~*~*~*~*~*~
Dudley: Sometimes angels rush in where fools fear to tread.
From The Bishop's Wife
Spiritual Movies
Topper
, 1937, Roland Young, Cary Grant, Constance Bennett
Topper Takes a Trip
, 1939, Roland Young, Constance Bennett
It's a Wonderful Life
, 1946, Jimmy Stewart, Donna Reed, Henry Travers
Here Comes Mr. Jordan
, 1941, Robert Montgomery
Topper Returns
, 1941, Roland Young, Joan Blondell
I Married an Angel
, 1942, Jeanette McDonald, Nelson Eddy
A Guy Named Joe
, 1943, Spencer Tracy, Van Johnson
The Horn Blows at Midnight
, 1945, Jack Benny, Alexis Smith
Heaven Only Knows
, 1947, Robert Cummings
The Bishop's Wife
, 1947, Loretta Young, Cary Grant
The Ghost and Mrs. Muir
, 1947, Rex Harrison, Jean Tierney
Portrait of Jennie
, 1948, Joseph Cotton, Jennifer Jones
For Heaven's Sake
, 1950, Cliffton Webb, Joan Bennet, Rovert Cummings
Angels in the Outfield
, 1951, Paul Douglas, Janet Leigh
Oh, God
, 1977, George Burns, John Denver, Teri Garr
Heaven Can Wait
, 1978, Warren Beatty, James Mason
All That Jazz
, 1979, Jessica Lang, Roy Scheider
One Magic Christmas
, 1985, Mary Steenburgen, Harry Dean Stanton
Date With an Angel
, 1987, Jim Sanders
Wings of Desire
, 1987, Peter Falk
Always
, 1989, Richard Dreyfuss, Holly Hunter
Field of Dreams
, 1989, Kevin Costner
Almost an Angel
, 1990, Paul Hogan
Ghost
, 1990, Patrick Swayze, Demi Moore, Whoopi Goldberg
Truly, Madly, Deeply
, 1991, Juliet Stevenson
Heart and Souls
, 1993, Robert Downey, Jr., Kyra Sedwick
Angels in the Outfield
, 1994, Danny Glover, Tony Danza
Michael
, 1996, John Travolta
The Preacher's Wife
, 1996, Danzel Washington, Whitney Houston
Unlikely Angel
, 1996, Dolly Parton, Roddy McDowall
Angels in the End Zone
, 1997, Matthew Lawrence, Paul Dooley
City of Angels
, 1998, Nicholas Cage, Meg Ryan
What Dreams May Come
, 1998, Robin Williams, Cuba Gooding
The Sixth Sense
, 1999, Bruce Willis, Haley Joel Osment
Angel in Training
, 1999, Danille Pessis, Laila Dagher
Angels in the Infield
, 2000, Patrick Warburton
Angels in America
, 2003, Meryl Streep, Emma Thompson
Just Like Heaven
, 2005, Reese Witherspoon, Mark Ruffalo
Copyright © 2006 Linda Pendleton. All rights reserved.