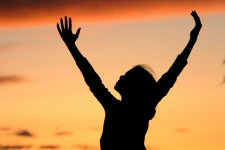 Discovering Your Life Purpose: Living the Life You Were Born to Live
Is your life filled with purpose? Every single one of us has a reason for being here on the planet right now, and every one of us has a unique contribution that no one else can make. It's the reason you were born. Are you living the life you were born to live? This inspiring life purpose training takes you on a journey of exploration and evaluation. Course includes interactive web tools and meditations for living with purpose. Ask yourself the right questions and unveil answers that may surprise you.
"Affirmations don't make things happen, they make things welcomed."

Thanks Giving: Key to Discovering Your Life Purpose
By Melanie Votaw
This time of year many of us are reminded to give thanks for what we have. It can be difficult, however, if you're facing difficult challenges. If you're like me during these times, you may feel angry that you have to deal with certain problems that keep your life complicated or bring you pain. But, as difficult as it may be to feel grateful at such times, it's exactly when you need to experience
gratitude
the most.
That's not to say that you don't permit yourself to feel what you're feeling, but the more
acceptance
you give negative emotions, the more quickly they're likely to move on like the passing visitors they truly are. Sometimes, however, you may find yourself fearing that if you allow your negative emotions to subside, you're giving in to the difficult circumstance. Of course, this isn't at all true. There's nothing helpful about staying mired in negative feelings.
In fact, the best way to win the battle — so to speak — is to begin to think more positive, and what better way to do that than to remember what's great in your life? It doesn't mean that you don't continue to strive to make things better and solve whatever problems you face, but it reminds you that you do have many blessings already. It reminds you that you have already created much that is good in your life, and it reminds you that you can do it again. Even more powerful, add to your list the blessings that you've created in your life in the past. Then, you'll need extra sheets of paper!
Making a list of your blessings may not make your pain go away, but it can certainly help to take the edge off. And as you recall what you've accomplished and what has worked in your life now and in the past, you will have renewed hope that you can be happy again.
My list of things to be grateful for:
All of this relates closely to
your life purpose
because if you're going through a period of lost hope, you may find it very difficult to open to your
life purpose
— let alone embrace it. If you allow yourself to recall the great things in your life, you can potentially discover your life purpose even during difficult times and
take active steps toward embracing it
!
Gratefully Yours,
Melanie Votaw
You are invited to rate and comment on this article. Why not share a couple things on your gratitude list with others?
total comment(s)
Copyright © 2007 – 2009 Melanie Votaw. All rights reserved.