Reiki Basics ~ Usui Reiki Lineage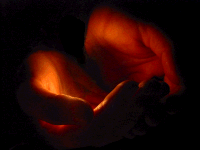 Reiki for Healing: Level I
You are invited to embrace a remarkable gift of healing, the ability to heal with your hands. The Usui system of Reiki is one of the easiest natural healing systems known today. Learn what Reiki is about and how it works. Receive your Reiki Attunement to permanently open this channel in your life. [
Learn More
]
Your Usui Reiki Lineage
By Maggie Wahls, RMT
Often Reiki practitioners are asked about their lineage. That is, who attuned them and how close to the source (meaning Dr. Usui) they are. The reason this is significant is that when information gets passed along from one mind to the next, it can get distorted, just like that game of
pass it on
. The sentence at the end of the line of players is quite different than it was at the beginning of the line. My lineage begins with Dr. Mikao Usui, who taught Dr. Hayashi, who taught Mrs. Takata, who taught Beth Grey and Iris Ishikura, who taught Vicki Grant. So as a student of
my online Reiki course
, your own lineage is only seven teachers apart from Dr. Usui himself. Some practitioners are hundreds of teachers apart from the source.
As to my background, I am a Reiki Master Teacher first attuned to Reiki in 1994. Reiki has been my way of life since then and I have evolved into a totally new person with deeper insight, a stronger connection to the One Light, and increased extrasensory skills. I am deeply honored to share my Reiki story and knowledge with you through this
Self-Healing Expressions online Reiki course
.
My Reiki Ancestors

Dr. Mikao Usui

Dr. Hayashi

Takata
Maggie Wahls is the creator and instructor for the courses Reiki for Healing: Level I. and Reiki for Healing: Level II. Learn more about Maggie and her courses now.






Copyright © 2005 Maggie Jean Wahls. All rights reserved.