The Shaman Speaks ~ How to use the Power of Shamanism to Heal Your Life Now
By June Soyka Cook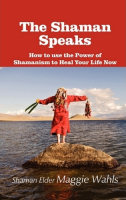 It is with great pleasure that Self-Healing Expressions recommends a new book authored by Shaman Elder Maggie Wahls. Shaman Elder Maggie is the creator and instructor of the popular Discover the Shaman Within eCourse. Having reviewed her Shaman eCourse lessons many times over the years, it was fascinating for us to see the kinds of questions her students ask. But even more captivating were her answers to some 45 student questions. In great part, her answers are filled with hope, love and wisdom. Here is a very small sampling some of the questions:
What is an energy signature?
Does a crystal have its own energy?
What is a Prayer Tree?
What do animals tell us?
What of the Earth's trembling?
How do I stay safe in this reality and others?
Is there a parallel between Buddhism and Shamanism?
How do I go about healing the rifts in Mother Earth's energy?
How do you protect yourself from predatory spirits?
Whether you've taken Shaman Elder Maggie's online Shaman (or Reiki courses) — or you are new to her material, there is something for everyone in her new book. Learn more now.
Aho!