I had my first breast thermography this week and it was painless, non-invasive, and I was exposed to NO radiation.  While I'm undecided whether or not I'll continue the annual mammograms, I was becoming concerned that I was exposing myself to harmful radiation annually, so I started looking for an alternative, and this led me to learn about breast thermography.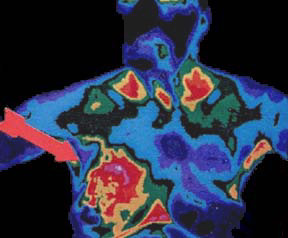 For those of you who wonder what is thermography, thermography is a diagnostic procedure that uses thermal imaging (a sort of infrared imaging science) for the detection of illness.  Breast thermography uses images of the breasts to aid in the early detection of breast cancer.  This first thermography will be my "base line."  I'll learn more in several weeks once the images have been evaluated by Dr. Getson.
I want to point out that I've no family history of breast cancer.  Also, we eat a diet consisting of no meat.  Meat contains pesticides, antibiotics, hormones (estrogens), etc.  Consuming large amounts of meat are now being associated with cancer, heart disease, and diabetes to name a few degenerative diseases.  Diabetes is strong in my family genetics while cancer is strong in my husband's gene pool.  In our household, we get our daily protein source from soy, eggs, wheat meat, beans, and/or nuts, and we occasionally eat fish.  We also eat whole grains, organic fruits, and vegetables daily.
Some of you may find these guidelines to breast health of interest.
If any of you reading this have experience with this diagnostic procedure, we'd be interested in hearing your comments.
To your health and healing,